The kitchen is one of the most important rooms in the house. At first sight, this is not surprising, as this is where meals are prepared. However, the air you breathe in there is not always the healthiest.
Between cooking smells, burnt smells, volatile organic compounds (VOCs) and smoke, your ventilation unit is not always able to get rid of this air pollution. But is this a good reason to invest in an air purifier for the kitchen?
Our selection for the year 2023
An air purifier is an excellent product if you want to improve air quality. These devices are designed to filter out airborne contaminants, making them ideal for kitchens where there is a lot of smoke and steam.
There are many models of air purifiers on the market, and it can be difficult to know which device is best suited to your desires. However, to make your choice easier, we have selected for you the 3 most suitable models for a kitchen in 2023.
1. Rowenta Intense Pure Aire XL Connect air purifier
The most efficient
The Rowenta Intense Pure Air Connect XL is a high quality air purifier with its NanoCaptur technology, size, power and silence. Suitable for rooms of any size, it is undeniably one of the most efficient products to date, with a 100 % mechanical air purification system, guaranteed ozone-free and with many attractive additional features.
2. Pure A9 air purifier
Our favourite ❤
The Pure A9 air purifier is without a doubt one of the best products we have reviewed. Whether you are prone to asthma or allergies, this equipment will ensure a healthy atmosphere in your home. The Pure A9 is ideal for improving the air quality of rooms (up to 129 m² depending on the model) and offers a much better price/performance ratio than its competitors.
3. Xiaomi Mi 3H Air Purifier
The best value for money
The Xiaomi Mi 3H air purifier is a device with multiple options not found in the competition. This connected air purifier is reasonable and offers excellent value for money.
Designed for areas up to 45 m², you can install it in any room. The plethora of options, minimal design and variety of speeds make it a complete device for cleaning the air in your home. In addition, the Xiaomi Mi 3H air purifier is amazing in terms of performance as evidenced by its CADR certification.
Why use an air purifier in the kitchen?
An air purifier filters the atmosphere and removes harmful particles such as dust, pollen, mould and gases. This makes the air cleaner and the kitchen healthier. In addition to reducing cooking odours, this appliance can quickly become indispensable if your kitchen is open to the living room or dining room.
In addition to its usefulness in limiting gaseous bodies, an air purifier can also reduce the risk of allergies and asthma. It is therefore primarily suitable for people who suffer from hypersensitivity or asthma. However, not all products are equal. Some are more efficient than others, which is why it is essential to find out about air purifiers before buying one.
Is the air in your house not only polluted by kitchen odours?

>> Discover our complete guide to air purifiers
Kitchen + air purifier: a winning combination?
The kitchen is one of the most time-consuming rooms in the house where people cook, so it is naturally full of contaminants. An air purifier can help reduce their concentration in the atmosphere, making the air fresher and cleaner.
There are several advantages to using an air purifier:
It eliminates odours. These can be very unpleasant and even harmful to your health. Thanks to the activated carbon filter, air purifiers eliminate odours while absorbing contaminants from the ambient air.
It reduces the concentration of fine particles. These particles are very dangerous to health and can penetrate deep into the respiratory system. A purification unit is ideal if you want to remove this pollution from the air. The use of a HEPA filter is particularly suitable for this type of pollution.
It prevents the risk of allergies. These are often caused by fine particles in the air. By absorbing them, an air purifier limits your exposure to allergens.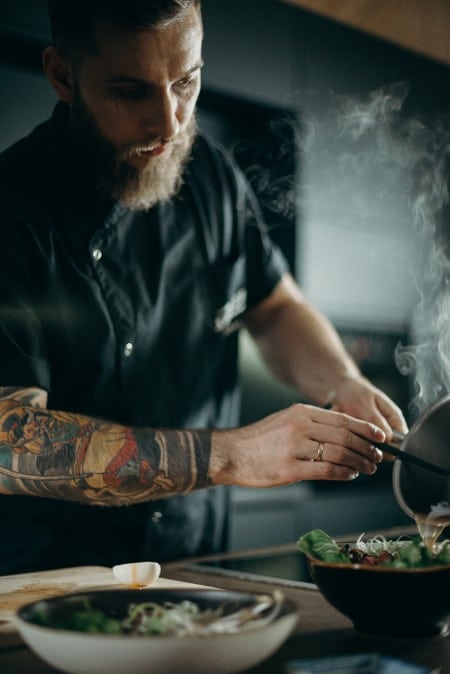 How to choose the right air purifier for cooking odours?
Air purifiers are becoming increasingly popular, but how to choose the right? To answer this question, you need to take into account several parameters, such as the size of the kitchen, the type (open or closed), the number of windows and the type of ventilation:
The size of the kitchen is importantThe size of the kitchen determines how much air the air purifier should be able to handle. For a small area, a medium-sized product will suffice, but if the kitchen is larger, a larger air purifier may be required.
The type of kitchen is also decisive. If the kitchen is open, there will be more air circulation and therefore a more powerful air cleaner will be required. Closed kitchens tend to be more confined and therefore require a smaller air cleaner.
The number of windows should be taken into accountThe more windows there are, the more air is circulated and the less likely it is that odours will be spread. If the kitchen has few openings to the outside, it may be worth considering an air purifier with an activated carbon filter.
The type of ventilation should not be overlooked. If the kitchen is well ventilated, there will be less chance of the odours spreading and therefore there will be less need for a powerful air purifier. If the ventilation is poor, there is a greater chance that the odours will spread and a more powerful product will be needed to remove them.