The dehumidifier is an effective solution for reducing the humidity level and limiting the risk of mould growth in your bathroom. High relative humidity, above 60 %, is associated with the presence of micromycetes, which can cause health problems (allergies, asthma, etc.).
Equipping your bathroom with an electric dehumidifier will help to reduce humidity levels and the associated problems.
Our selection for the year 2023
Our favourite electric dehumidifier for bathrooms is the Comfee. However, there are two other models (the Gocheer and the Pro Breeze) that are no match for it in terms of efficiency.
1. Pro Breeze bathroom dehumidifier
The most compact
This electric dehumidifier has a removable 1,500 ml water tank and uses Peltier thermoelectric cooling technology. This technology allows the appliance to do without a compressor, making it more economical and silent (40 dB). Ideal for a room of 20 m², this dehumidifier quickly eliminates the humidity and moulds contained in the air (up to 500 ml of humidity absorbed per day).
Its removable water tank has an automatic shut-off function and an indicator light to let you know when it's time to empty it. Compact and ergonomic, the Pro Breeze fits easily into even the smallest of bathrooms.
2. Bathroom dehumidifier Comfee
Our favourite ❤
With a removable 2 litre water tank, this electric dehumidifier uses environmentally friendly R290 refrigerant to collect moisture from the air. Ideal for a room of 16 to 20 m², this unit has a control panel and LED display allowing you to choose the desired humidity level.
Very functional, the Comfee dehumidifier is equipped with a timer as well as an automatic restart: in the event of a power cut, it will start up again with the last known settings. Compact and silent, this equipment is capable of recovering up to 12 litres of water per day. You will have no difficulty in finding a place for it in your home, as this device is both aesthetic and practical.
3. Gocheer bathroom dehumidifier
The best value for money
With a removable 2,000 ml water tank and the capacity to dehumidify a room of 30 m², this electric dehumidifier is able to absorb an average of 800 ml of moisture per day. The dehumidifier is quiet (approx. 40 dB) and energy-saving and works automatically. When the water tank is full, it switches off naturally and a red indicator light warns you that it is time to empty it. Lightweight and compact, you'll have no trouble finding a place for it in your bathroom.
Why is mould in the bathroom a problem?
It may seem obvious that homeowners want to avoid the appearance of micromycetes in their bathrooms. After all, mould is unsightly and gives a dirty feeling as well as an unpleasant smell. But these are only minor complications compared to the risks to your health and your home.
Prolonged exposure to moulds can be source of long-term health problems, Mould can cause chronic illnesses such as asthma, allergic reactions and respiratory infections. Mould can also cause significant damage to your home. They eat away at materials They can cause serious damage to your walls, ceilings and floors.
In the presence of moisture, moulds tend to grow and spread rapidly, so that a contamination that starts in your bathroom can quickly spread throughout your home. Eliminating micromycetes is a relatively long and costly process that is best avoided by regulating the humidity level.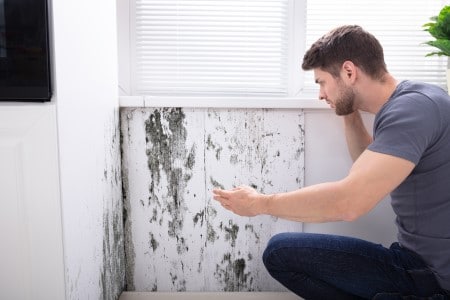 Are your moisture problems not limited to your bathroom?

>> Discover our complete guide to the best dehumidifiers
Do you need a dehumidifier for your bathroom?
The bathroom is a naturally warm and humid place, ideal for mould growth. Water from bathing can splash onto the floor, while a hot shower moistens and warms the whole room. In addition, bathrooms are often poorly ventilated: the lack of windows and ventilation means that micromycetes can develop as a result of moisture build-up in this small water space.
If your bathroom is equipped with a VMC or an air extractor fan, turning it on every time you take a shower will limit the moisture in the air and make it less necessary to use a dehumidifier. On the other hand, if you don't have an extractor fan or if you have discovered micromycetes despite all your precautions, then you may want to consider using a dehumidifier for your bathroom.
How to choose a dehumidifier for the bathroom?
When choosing a bathroom dehumidifier, you need to consider both the size of the room in which it will be used and the humidity level in the room. These factors directly influence the risk of proliferation of micromycetes in your home.
Most bathroom dehumidifiers are compact, which limits the capacity of their water tank. This means you may have to empty them once every week or so. However, there is no risk of them becoming overflowing, as all electric dehumidifiers switch off automatically when full. The technology in dehumidifiers will help you to recover litres and litres of water, all year round, without worrying about your dehumidifier's water tank overflowing.