Originally designed as a storage area rather than a living space, the cellar is a separate room in your home. It often has inadequate ventilation and poor airflow, making it a space that is prone to moisture build-up and mould growth. This is why it is sometimes necessary to use a dehumidifier to create a healthy, moisture-free atmosphere.
Our selection for the year 2023
There are many dehumidifiers on the market. In order to make your choice easier, we have limited our selection to 3 products that we believe are the best for your cellar in 2023.
1. Comfee dehumidifier
The most efficient
Equipped with a removable 3,000 ml tank and capable of dehumidifying a room of 20 to 40 m², this electric dehumidifier is capable of absorbing up to 20 L of humidity per day. The Comfee is energy-efficient and can be controlled remotely, allowing you to choose the extraction speed and the desired level of ambient humidity. This intelligent device automatically adapts to the indoor climate conditions.
This dehumidification unit is very practical, offering you the choice between manual emptying of the recovery tank or continuous drainage once the equipment has been connected to your floor drain. The drain hose required to connect the unit is not supplied with the equipment, but can be easily found on the internet or in your local DIY shop. Finally, we appreciate the presence of wheels and the low noise level of this product (about 45 dB) which make it a functional and well-designed product.
2. Suntec dehumidifier
Our favourite ❤
With a removable 4,000 ml tank and the capacity to dehumidify an area of 100 m², this electric dehumidifier is capable of absorbing up to 30 L of moisture per day. The Suntec is energy efficient and environmentally friendly as it is only activated when the relative humidity exceeds a certain level and uses R290 for its compressor - energy efficient natural gas.
In addition to its power, we appreciate the modern aspect of the device. Indeed, it can be connected by Wifi to your telephone, allowing you to remotely adjust its extraction speed, the desired humidity level or to set a timer. We also like the presence of a very practical defrosting function if you want to use the device in a cold environment.
Equipped with wheels and a drain hose that can be connected to your floor drain, the Suntec dehumidifier is a real favourite for us: it combines power, design and useful options with environmental awareness.
3. Pro Breeze dehumidifier
The best value for money
With a removable 1,800 ml tank and the capacity to dehumidify a 20 m² room, this electric dehumidifier is able to absorb up to 12 L of water per day. The Pro Breeze is equipped with a humidity sensor that allows it to stop automatically when the desired humidity level is reached.
The dehumidification unit is effective in regulating the humidity in the room and also has a defrost function which is useful if the unit is operated in a cold environment. We also liked the intuitive LED display and touch panel (which can be locked with a child lock).
Practical and powerful, the Pro Breeze comes with a drain hose if you want to connect it to a floor drain for continuous emptying. There are also wheels to make it easier to move the unit and its 10kg weight around, whether in your cellar, garage or bathroom.
What is the ideal humidity level in a cellar?
Whether your basement is finished or not, the existence of moisture can encourage the growth of mould and other bacteria. To maintain a healthy basement, it is advisable to check the humidity level regularly to keep it at an acceptable level. In absolute terms, this is between 30 and 50 %. However, it can vary according to the climate and the season:
During the summer, as the air outside is warmer and more humid, it is possible for it to make its way into your basement. The relative humidity can rise to 60 % when it comes into contact with the colder air. Above 50 %, you must consider a solution to dry the air of your cellar to prevent the growth and spread of mould on its surface.
During the winter, cold air tends to cause the humidity in your cellar to drop. On contact with it, the humidity in your cellar can fall below 40 %. However, this relatively low humidity is not at all disturbing if you do not stay in your basement for a long time.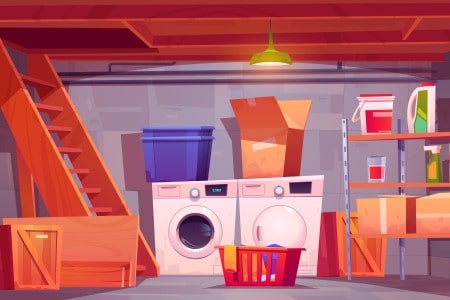 Are your moisture problems not limited to the cellar?

>> Discover our complete guide to the best dehumidifiers
How do I know if my cellar is healthy?
Stagnant air with high humidity and the storage of chemicals (paints, cleaning products) are the main factors linked to poor air quality in your cellar. However, there are other factors that can contribute to poor air quality: the presence of radon or poor ventilation.
Radon
Radon is a colourless and odourless gas. Approximately 8 times heavier than air, this gaseous body from the ground often enters your home through your basement. Radon is a very dangerous radioactive gas that is strongly associated with lung cancer. The only reliable way to detect it is to use a radon detector.
Mould growth
Micromycetes are present in small quantities and do not pose a health hazard. However, in the presence of a moist and warm environment, they have a natural tendency to grow and spread. Their expansion is a real problem for your health and that of your home. Fortunately, they are quite easy to spot, as they betray their existence by the appearance of black dots or dark, more or less greenish spots.
A thorough check of your cellar is recommended to detect areas prone to fungal growthThese include: potentially leaking or moist pipes, walls near your appliances, inconspicuous spaces (e.g. behind a plate on the wall), or places where your food and drink are stored.
Chemicals
Whether it is paint or cleaning products, it is advisable to store your chemicals in a well-ventilated room or one with a ventilation system. But why? The reason is quite simple: chemicals constantly release volatile organic compounds (VOCs) that are relatively harmful to your health. The only effective way to remove these VOCs from the air in your cellar is to store your chemicals somewhere else, preferably in a well-ventilated room or regularly ventilated.
The ventilation system
If you want to keep your cellar air healthy, the most effective way is to check your ventilation system regularly. It should be in good working order at all times to facilitate the circulation of air in your dehumidifying area. In this sense, it is advisable to periodically check and clean the grids of your ventilation system to effectively regulate the degree of humidity.
How to dehumidify a cellar?
A damp basement can be a real disaster for your basement, especially if it includes a finished space. Whether it's drywall or furniture, moisture can cause irreversible damage to the quality of your home. Fortunately, there are many solutions to help you reduce excess moisture in your basement.
Check the exhaust of your tumble dryer
Your dryer emits humid air into your basement. This warm air promotes mould growth and can also cause structural problems. To avoid this, make sure your appliance is properly vented to the outside.
Install a dehumidifier
Install a dehumidifier and connect it to the floor drain with a hose. This is by far the most effective way to dry out your cellar. The only constraint is to periodically ensure that the drain pipe is not blocked. By applying hot water with detergent, you can suppress the growth of algae in the drain and maintain the dehumidification capacity of your product.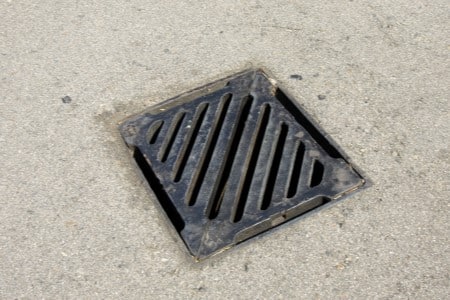 Check your walls for cracks
Moisture can seep into your cellar through cracks and holes in the walls and foundations of your home. As it accumulates, it causes the appearance of fungi and odours. Filling these cracks is the solution if you want to limit the smell and excess moisture in your basement.
Seal the concrete in your basement
Unsealed concrete floors are porous and absorb moisture. If the moisture does not dry sufficiently, it creates mould. To overcome this problem, you can sealing your concrete floors and thus form an effective barrier against humidity, because without this, even the best dehumidifiers will never have enough power to overcome your humidity problems.
Keep your gutters clean
When leaves, twigs and other debris clog your gutters, they can cause water to pool against the foundation of your home. Regular maintenance of your gutters, as well as extension of downspouts to keep rainwater away from the foundation is an effective solution for dehumidifying your basement.
Control rainwater runoff
If your house is located on a slope, it is possible for water to collect at the foundation when it runs off. To prevent this from happening, you can build up the surface of the land to divert its course. If this is not realistic, consider covering the outside of the basement with gravel and stones. This is because, rock is particularly effective in combating moistureIt absorbs easily and dries quickly.
Install a sump pump (in a flood zone)
If you live near a river or a particularly wet area, your basement may be subject to flooding. Installing a sump pump will help you drain water from your basement to the outside as quickly as possible. Remember to also install a battery backup in case of a power failure.