Do you suffer from conjunctivitis and the air in your home seems too dry? What if it was time to consider a humidifier? Whether it's for you or your newborn baby, humidifying your home gives you the feeling of a pure, fresh atmosphere.
Far from protecting you from all ills, it limits the transmission of viruses and reduces the discomfort of dry air. But how do you choose between the many humidifiers available on the market? That's what we'll tell you in this article.
Our selection for the year 2023
There are many humidifiers on the market. To make your choice easier, we have limited our selection to 9 products classified according to your needs: whether for your baby, your plants or to improve your indoor comfort, the humidifiers we propose are, in our opinion, the best for your home in 2023.
1. For baby (and his room)
Maintaining your baby's sleep quality and well-being is the main reason to buy a baby humidifier. However, we often forget that this device also limits the transmission of viruses, protects your child's skin and relieves him/her during episodes of nasal congestion. For more information >> The best baby humidifiers.
Philips Avent Nanocloud Humidifier
The most efficient
The Philips Avent Nanocloud is a humidifier designed to evenly distribute humid air throughout the room, while reducing the spread of bacteria by 99 %* compared to ultrasonic devices. With a 2 litre water tank and a noise level of only 26 dB, the Nanocloud is the perfect tool if you want to humidify a 25 m² room.
Equipped with an intuitive digital interface and an internal hygrostat, this humidifier allows you to choose a relative humidity level of 40, 50 or 60 % for optimal comfort. We also appreciate the presence of a night mode, ideal for preserving baby's sleep.
Babymoov Hygro(+) air humidifier
Our favourite ❤
The hygro(+) humidifier from babymoov has a 2.5 litre water tank and can run for up to 18 hours on its own. Designed to provide baby with the best possible environment, it incorporates all the features you would expect from a humidifier. Equipped with a fixed or automatic 7 colour nightlight and barely audible, this product will be the ideal companion to accompany your child to the arms of Morpheus.
Among its functions, we appreciate the display of the temperature and the ambient humidity, as well as the presence of a nozzle capable of rotating 360°. All of these features together make the babymoov a real favourite. We can only recommend this model if you are looking for a practical and efficient device to ensure an ideal humidity level in your baby's room.
Levoit Dual 200 S air humidifier
The best value for money
The Levoit Dual 200 S is a connected humidifier designed to ensure a healthy and comfortable sleeping environment for baby. Supplied with a mobile application, this device is ideal for monitoring humidity levels in real time. Among its functions, we appreciate the presence of voice control, a timer as well as the automatic mode capable of adjusting the level of mist depending on the ambient humidity.
With a 3-litre tank and only 28dB emissions, the Dual 200 S is the right solution for you if you are looking for a modern, compact and practical device. The Dual 200 S also has a sleep mode, which is very important to you. Once activated, this option allows the device to automatically turn off its lights, while activating the automatic mode, so that you and baby can sleep peacefully.
2. For plants
Maintaining a good level of humidity is the most important aspect of caring for your indoor garden. However, it is not always easy to maintain the ideal humidity level in hot or dry air. In order to combat this problem effectively, we have selected 3 devices that are perfectly suited to humidifying plants. For more information >> The best plant humidifiers.
Levoit Classic 300 S air humidifier
The most efficient
The Levoit Classic 300 S humidifier has a 6-litre water tank and can run continuously for 60 hours at a noise level of 26 dB. Barely audible, this unit emits less noise than a whisper, which, combined with a mist height of over 60 cm, makes it the ideal solution for quietly covering a room of 47 square metres.
Equipped with an automatic mode, the Levoit knows how to adapt to the ambient humidity, which ensures a constant hygrometry rate. Remote controllable via voice command (Alexa and Google), this humidifier is by far the most efficient if you want to create an environment conducive to the development of your plants while improving the quality of the air in your home.
Elechomes EC5501 air humidifier
Our favourite ❤
The Elechomes EC5501 is an ultrasonic air humidifier with a 6 litre tank, capable of diffusing a 360° mist thanks to its two adjustable nozzles. Offering a warm or cold mist according to your wishes, the EC5501 is perfect for a room of 70 m².
Equipped with an automatic mode, this humidifier is capable of stopping the emission of mist as soon as the desired hygrometric degree is reached and of reactivating itself if the humidity drops. Relatively discreet, this device emits only 34 dB and has an autonomy of 60 consecutive hours.
In addition to offering you an aromatherapy function via the diffusion of essential oils, the Elechomes also takes care of your sleep by allowing you to turn off its LEDs at night. We think that this product is perfect for promoting the growth of your plants and for taking care of your health.
Alacris air humidifier
The best value for money
The Alacris humidifier has a 4-litre water tank and can run continuously for 30 hours at a noise level of only 32 dB. The unit is barely audible and is especially practical because it can be filled from the top, so you don't have to dismantle any parts. Combined with a 2-metre power cable, you'll have no trouble installing it anywhere in your home, whether on your sideboard or near plants.
Equipped with a double steam nozzle that can be rotated 360°, this ultrasonic humidifier diffuses a homogeneous ultra-fine mist that is ideal for diffusing essential oils. Elegant and discreet, it also has a safety device that allows the appliance to switch off independently as soon as the water tank is empty.
3. For your radiator
Whether it's winter or mid-season, it's not always easy to combat the dry feeling your radiator gives off. However, the dry air caused by your heater can be countered by using a radiator saturator. Read more >> Radiator saturator: which one to choose?
Astuceo Radiator Humidifier
The classic
Pearly and white, this ceramic saturator is a must if you want to combine humidity and heating in winter. Sold in packs of 4 and delivered with its hooks, this radiator humidifier will easily fit in all types of interiors and will require little maintenance.
Com-four Radiator Humidifier
The design bonus
Made of stainless steel, this radiator saturator will help you to maintain a sufficient humidity level in your room when it is heated in winter. Sold in sets of 2, this timelessly designed product also comes with two rubber rings to protect your radiator and saturator from shocks.
Metrox Radiator Saturator
The best value for money
Discreet and modern, this ceramic radiator saturator is ideal if you want to limit the amount of dry air in a room. Glazed on the outside, the porous inner surface of this product is designed to allow better evaporation of water. Sold in sets of 4, this product has hooks that can be individually adjusted to the shape of the radiator.
Why choose a humidifier?
Owning a humidifier has many benefits. Whether it's to improve your sleep and that of your baby, to limit the risks of breathing too dry air or simply to keep your plants healthy: humidifying the atmosphere in your home can only improve your indoor comfort and help you breathe easier.
Improve your baby's (and your own) sleep
You may never have paid attention, but if you listen to a humidifier, you will notice that it makes no sound except a slight white noise. Although relatively discreet, this sound is nevertheless very effective in making it easier for baby to fall asleep and get into a deep sleep. It reminds him of the different sounds he used to hear during pregnancy.
In turn, helping your child into the arms of Morpheus will a real plus for your sleep. After all, what could be more stressful than your baby crying incessantly at night? Keeping you awake is just as important as helping your child sleep better, so we encourage you to install a baby humidifier. You won't regret it: its white noise is simply perfect for helping baby fall asleep!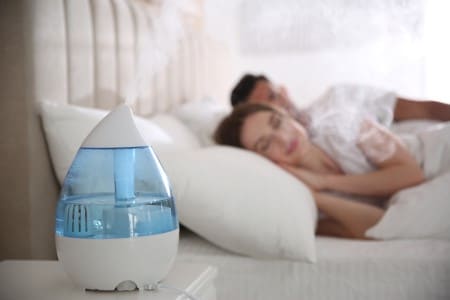 Limit the risks of too dry air
In addition to helping you sleep better, a humidifier can be very useful if you want to limit the discomfort of dry air. It can help relieve the symptoms of certain respiratory conditions (blocked nose, asthma), skin problems (eczema) and limit the transmission of certain viruses such as the flu. It has many benefits, as it reduces :
Drying out the sinuses Sinus drainage: too little moisture usually leads to sinus dehydration. When this happens, the symptoms can be painful; headaches, nosebleeds or nasal congestion can all be experienced by you or your child. On the other hand, high humidity helps mucus to flow through your nostrils, making it easier to breathe.
The spread of viruses Humidity: humidity significantly reduces the risk of spreading viruses. According to several studies, dry air tends to support the transmission of the flu virus. So the more humid the air, the less likely you are to catch it.
Sore throats Dry air: In dry air, your body is at increased risk of developing a sore throat. In order to limit this discomfort, it is recommended to opt for a humidifier. In addition to humidifying the air, this device lubricates and soothes your throat in winter, making it easier to fight laryngeal infections, coughing, breathing difficulties and hoarseness.
Skin problems Dry air can have harmful effects on the skin tissue. Excessive dryness causes the skin to become dehydrated, which often leads to itching, chapped lips and flaking hands. The use of an air mister or a humidifier will help keep your skin soft, as it will be perfectly hydrated.
Preserve your plants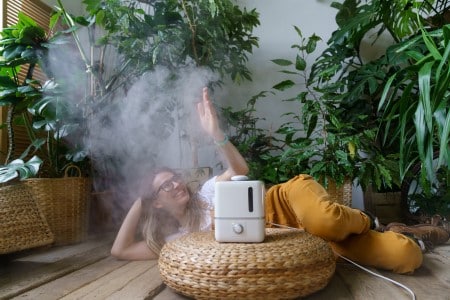 Humidifying the indoor air is not only good for your body and your sleep, but also for your plants. When the air is dry, your plants tend to grow more slowly and lose their foliage. Improving the humidity in your home is essential if you want to boost your indoor garden and help it to flourish. By installing a plant humidifier, you can keep your plants healthy and prevent them from drying out too quickly and dying from a prolonged lack of water.
How does a humidifier work?
There are many humidifiers on the market. Whether they are ultrasonic, radiator-mounted, hot-steam or cold-steam, their mechanism is the same: to transform water into steam in order to improve the humidity in the room.
The ultrasonic humidifier It is equipped with a nebulisation technology, which is capable of generating warm or cold steam in its immediate environment. This model is particularly quiet and works on the basis of a ceramic diaphragm that is subjected to ultrasonic vibrations, which produce fine water droplets. Thanks to an integrated fan, this fine rain is then diffused into the house in the form of a light mist.
The hot steam humidifier It works by means of electrodes capable of heating water to its boiling point. The main advantage of this product is that it generates a healthy and warm mist in its immediate environment. Indeed, once brought to the boil, the water is purified and is free of germs and impurities. It is then cooled slightly before being expelled from the device by an integrated fan.
The cool mist humidifier Don't be fooled by its name, the cool mist humidifier actually only emits a mist at room temperature. This device is particularly powerful and energy efficient, and is capable of covering a large area. However, it is very noisy when in use. In order to overcome this shortcoming, this type of humidifier has gradually been replaced by the ultrasonic humidifier, which is quieter and more compact. However, its operation is very simple: a wall that is both damp and porous is charged with water thanks to its wick in contact with the water in the container. Once the water is ventilated, it changes into a light mist before being diffused in your home.
Radiator saturator It is relatively simple to operate, with no technology involved. All you have to do is hang the device from a radiator to humidify the air. When it comes into contact with the heat, its water reserve evaporates, thus limiting the feeling of dryness given off by your heating. Although economical and effective, this device is less powerful than its counterparts, as it does not maintain a constant level of humidity in your home.
How to choose a humidifier?
Choosing a quality humidifier for your home is not easy. In addition to choosing the right technology for your needs, you should also pay attention to certain criteria such as the built-in humidistat, the timer, the sound level or the tank capacity. The qualities of a humidifier are numerous, it is still necessary to find a suitable model, whether it is for :
Noise level Noise: As with many appliances, you will probably pay attention to the noise your humidifier makes. So if you want to place your humidifier in a bedroom or office, we advise you to choose an ultrasonic model. It does not make any noise, which makes it ideal for your bedroom or baby's room.
The integrated hygrostat Do you want to maintain an ideal humidity level without using a hygrometer? Then we can only recommend humidifiers with hygrostat function. They are easy to use and only require a little configuration on your part. You will no longer have to worry about the risk of condensation due to prolonged and excessive use of your device.
Water tank capacity This has a real impact on the autonomy of your equipment. In fact, the larger the tank, the longer the operating time. As for its volume, we recommend a model of between 6 and 10 litres. This will give you the advantage of humidifying the air between at least 8 and 12 hours. However, be sure to empty the water container completely between each refill and add a few drops of lemon juice. This will limit the risk of microorganisms and bacteria growing in the water.
The timer Some models have a built-in timer. This is a practical and functional feature that allows you to start the humidifier at a desired time and thus enjoy a perfectly humidified room. However, this option is not the most advantageous, as it requires the water to stagnate in your water tank for long hours, which is a source of germs and impurities for your home.