Prendre soin de vos plantes est indispensable si vous souhaitez profiter d'un air de qualité. Cependant, il n'est pas toujours facile de préserver son jardin intérieur en présence d'un air trop chaud ou trop sec.
Pratique et discret, un humidificateur pour plante est selon nous le compagnon idéal si vous désirez dynamiser la croissance de votre jardin intérieur et respirer un air sain.
Our selection for the year 2023
There are a large number of plant humidifiers on the market. In order to make your choice easier, we have limited our selection to 3 products that we believe are the best for your indoor garden in 2023.
1. Levoit Classic 300 S air humidifier
The most efficient
The Levoit Classic 300 S humidifier has a 6-litre water tank and can run continuously for 60 hours at a noise level of 26 dB. Barely audible, this unit emits less noise than a whisper, which, combined with a mist height of over 60 cm, makes it the ideal solution for quietly covering a room of 47 square metres.
Equipped with an automatic mode, the Levoit knows how to adapt to the ambient humidity level, which ensures a constant hygrometry level. Remote controllable via voice command (Alexa and Google), this humidifier is by far the most efficient if you want to create an environment conducive to the development of your plants while improving the quality of the air in your home.
2. Elechomes EC5501 air humidifier
Our favourite ❤
The Elechomes EC5501 is an ultrasonic air humidifier with a 6 litre tank, capable of diffusing a 360° mist thanks to its two adjustable nozzles. Offering a warm or cold mist according to your wishes, the EC5501 is perfect for a room of 70 m².
Equipped with an automatic mode, this humidifier is capable of stopping the emission of mist as soon as the desired humidity level is reached and of reactivating itself if the hygrometry decreases. Relatively silent, this device emits only 34 dB and can operate for up to 60 consecutive hours.
In addition to offering you an aromatherapy function via the diffusion of essential oils, the Elechomes also takes care of your sleep by allowing you to turn off its LEDs at night. We think that this product is perfect for promoting the growth of your plants and for taking care of your health.
3. Alacris air humidifier
The best value for money
The Alacris humidifier has a 4-litre water tank and can run continuously for 30 hours at a noise level of only 32 dB. The unit is barely audible and is especially practical because it can be filled from the top, so you don't have to dismantle any parts. Combined with a two-metre power cable, you'll have no trouble installing it anywhere in your home, whether on your sideboard or near the plants.
Equipped with a double steam nozzle that can be rotated 360°, this ultrasonic humidifier diffuses a homogeneous ultra-fine mist that is ideal for diffusing essential oils. Elegant and discreet, it also has a safety device that allows the appliance to switch off automatically when the water tank is empty.
What are the benefits of a plant humidifier?
There are many benefits to using a humidifier. As well as helping your plants to grow, this product limits the inconveniences related to dry air while improving the comfort of your indoor air.
Helping your plants grow
Buying a plant humidifier is a great idea if you want to look after your indoor garden. It increases the humidity of the air in the room, which promotes evapotranspiration from the water vapour in the air, rather than the moisture in your plants.
Although fogging is an effective way of increasing humidity, it is not sufficiently effective (only about 30 minutes). For promote the growth and development of your plantsIt is therefore preferable to turn to a more permanent solution such as a plant humidifier.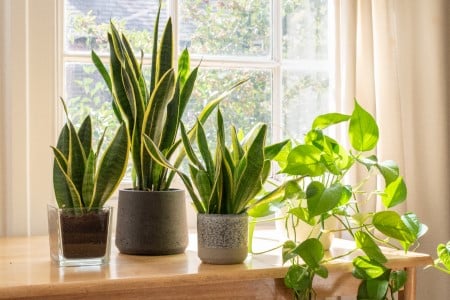 Improving the comfort of your home
Improving your indoor comfort is one of the main benefits of a plant humidifier. Discreet and quiet, this device is perfect if you have a baby, as the white noise it emits helps them fall asleep. The water vapour produced by this device is also ideal for improving the air quality in your home.
You don't just want to moisten your plants?
Limiting the risks of dry air to your health
As well as helping your green plants to thrive, a humidifier is the ideal solution for reducing the risk of contracting certain illnesses (such as the flu) in overly dry air. In fact, it reduces the spread of viruses and relieves the symptoms of certain diseases such as asthma and eczema.
Colds and flu are viruses that can be contracted by breathing too dry air. In order to limit their transmission, we advise you to buy a plant humidifier. In addition to caring for your indoor garden, you will reduce the spread of viruses and improve the quality of your home air.
Avoiding skin-related diseases
Dry air can have a bad effect on your skin: in addition to dehydrating certain parts of the body (such as the face), dry air also causes itching. The skin on your hands and lips may flake off at times. To counteract this, we advise you to install a humidifier in your home. This will keep your skin moisturised in a constant and natural way. You will also benefit from softer skin in the long term and limit the risk of eczema.
Limit the drying out of your sinuses
Having a humidifier for your plants ensures that you have sufficient humidity in your home. Low humidity causes your sinuses to dry out, which in turn causes pain, nosebleeds or nasal congestion. In some cases, headaches or headaches can also occur. The humidifier is perfectly suited to counteract these discomforts, as it promotes a high level of humidity, which is conducive to the drainage of mucus lodged in your airways.
You can get a sore throat from breathing air that is too dry. To reduce this risk, we recommend that you use a humidifier. By improving the humidity in your home, the humidifier helps lubricate your throat, which in turn soothes it. After all, the throat is an organ that is easily irritated in winter. With such a device, you can therefore combat sore throatsThis is a good way to reduce breathing difficulties and to limit hoarseness and laryngeal infections.
Why is humidity important for the health of your plants?
Humidity is essential for the health of your plants for two reasons:
The first is that they need to grow to survive in your home. Using a humidification technique such as a humidity tray is not suitable in our opinion, as its effect fades after a few days. In contrast to this method, a plant humidifier ensures that you maintain a constant humidity level for your plantsThis is ideal for promoting their growth.
The second is that your plants get used to not absorbing water from the soil once they are in your home. To compensate for this, the water vapour produced by your humidifier is ideal, as it allows your plants to draw the water they need to grow.
Where to place a plant humidifier?
Be sure to place your humidifier in the same room as your plants. For best results, we recommend that you do not install it in the immediate vicinity of these, but rather at a distance of two or three metres. This will give them enough space to grow and breathe, while avoiding soaking their foliage with excess water vapour.
You can use any type of humidifier. The main thing is that you can easily install it in the desired room. We advise you to choose a cool-mist humidifier. This is the perfect choice.