Good ventilation is essential if you want to avoid moisture-related problems such as fungus and mould growth. However, it is not easy to make the right choice among all the different types of bathroom ventilation systems. Here are our tips for making the right choice.
Our selection for the year 2023
There are a large number of controlled mechanical ventilators on the market. In order to make your choice easier, we have limited our selection to 3 products that we believe are the best for your home in 2023.
1. Aldes EasyHome single flow hygrovariable ventilation system
The most efficient
Whatever the activity or the number of people in the house, EasyHOME Hygro allows a ventilation of your house close to your needs. Its humidity sensitive air inlets adapt automatically according to the hygrometry detected room by room (breathing, shower, kitchen, etc.).
Compatible with Algaine flexible ducts and Optiflex semi-rigid ducts, this product offers a waterproof and efficient installation. Easy to install thanks to its pictograms and its simplified electrical connection, it requires only 2 screws to be fixed, whereas the Attic version of EasyHome must be suspended to avoid the transmission of vibrations.
2. Atlantic single flow ventilation system
Our favourite ❤
Autocosy IH Flex is a self-regulating single flow ventilation system designed for small spaces such as converted attics. In addition to its extra-flat dimension, this ventilation ensures an effective renewal of the interior air, even in the event of peak of moisture. Thanks to its patented "Humidity Intelligence" system, the demisting of the rooms is fast and ultra-discrete (only 25 dB).
Made in France, this product designed by Atlantic has universal "Line" vents that adapt to all sleeves. You are thus guaranteed to be able to easily renew your existing installation.
3. Aldes self-regulating single flow ventilation
The best value for money
EasyHOME Auto is the single flow ventilation solution, designed for a perfect integration in any interior. Designed to automatically adapt the extraction and air renewal flows in your home, this product is easy to install thanks to its pictograms and its simplified electrical connection.
Unlike its Attic version which is suspended to avoid the transmission of vibrations, you can easily fix the compact version with 2 screws. Finally, exclusive to Aldes, EasyHOME Auto integrates perfectly with your interior decoration with its new ColorLINE design and multicoloured ventilation grilles.
What type of bathroom ventilation system should I choose?
The most commonly used model is the Self-adjusting single flow ventilation. Inexpensive and easy to install, this system draws air from the room and exhausts it to the outside. The main constraint is that it ventilates cold air, which implies a loss of heat to the domestic heating system.
However, these inconveniences can be limited by opting for a Single flow hygrovariable ventilation. A little more expensive to buy, but more energy efficient, it has a regulated airflow according to the hygrometry rate in the room, thus reducing heating losses.
Another possibility is the Double flow VMC. Although it is twice as high at the time of purchase, this product allows uniform ventilation of your home without heat loss. It is much more complex to install, requiring two duct systems, which must be connected to a heat exchanger. In general, this work is done when the house is built or if you are carrying out major renovations, as this ventilation system does not fit into all spaces.
If you wish to equip your home with controlled mechanical ventilation, the best choice in our opinion is a humidity sensitive single flow CMV. However, it can be interesting to opt for a self-regulating version if you take into account your budget, your needs or simply the configuration of your house.
Single flow CMV
A single-flow ventilation system is based on the use of an electric extractor (also known as an inverted fan). Fixed in the attic, this device draws humid or polluted air out of the house while drawing in fresh air. By drawing in air, the extractor creates a vacuum that draws outside air into the house through air inlets located in the main rooms (living room, bedroom, office). The stale air is sucked inside the ducts and then evacuated to an air outlet in the roof.
There are 3 types of single flow CMV:
Self-adjusting It is manually controlled by the user.
The hygro-A It regulates the flow rate of the air outlets according to the hygrometry measured by its sensors.
The hygro-B It is more efficient because, in addition to regulating the airflow from the air outlets, it automatically modulates the inflow of fresh air from the outside.
Double flow CMV
A double flow CMV allows to renewing the air in a house while limiting energy loss. Its system is based on the use of two networks of ducts, each connected to a heat exchanger: the extraction of the stale air is carried out by the first network of ducts while the second injects fresh air into the house. Before being introduced or expelled, these two air flows cross (without mixing) at the heat exchanger, which is responsible for transferring the temperature of the expelled stale air to the incoming fresh air.
The advantage of this product, in addition to the savings on heating, lies in its ability to filtering the air that enters. By filtering out pollen and dust, while keeping your home warm, this system is by far the most efficient way to live in a a healthier atmosphere.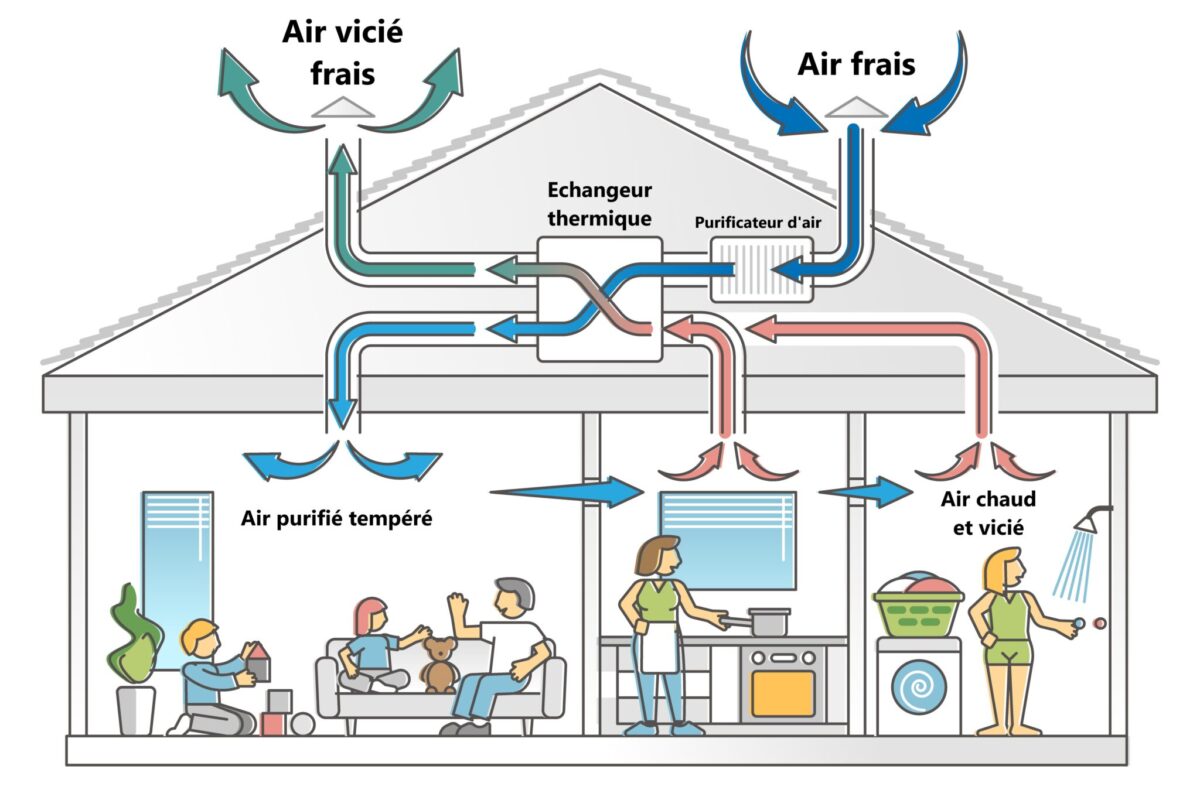 Is it compulsory to have a VMC?
The installation of a controlled mechanical ventilation system in one's home is not compulsory, but ventilation is.
The principle of ventilation of dwellings was introduced by a decree dated 22 October 1955 and by the order of 14 November 1958 (on the ventilation of new housing), which define the principle of ventilation per room. This ventilation can be achieved either by opening windows, or permanently by installing upper and lower ventilation grilles or by installing a CMV.
A second order dated 22 October 1969 (relating to the ventilation of new dwellings) established the principle of general and continuous ventilation of dwellings. Since 1969, it has become a legal obligation for all new dwellings built, whether collective or individual. In both cases, the air inlets must be located in the main rooms, while the air is exhausted in the utility rooms (kitchen, bathroom, toilet). The air must also be able to circulate freely between the main rooms and the utility rooms.
The 24 March 1982 and 28 October 1983New decrees have introduced air extraction rates to be respected according to the number of rooms in the dwelling and for each room. This regulation also aims to ensure that the premises are properly ventilated and that the air is properly renewed.
How to ventilate your bathroom properly?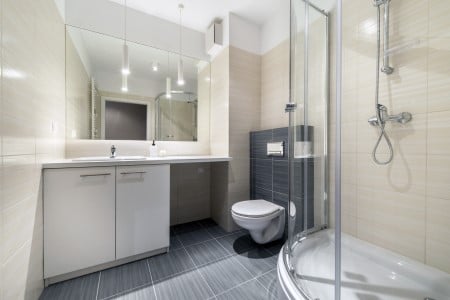 Moisture from a hot shower or bath in your bathroom can lead to the development of micromycetes and bad odours. If you do not ensure sufficient ventilation, this can eventually lead to health problems (allergies due to mould spores, rhinitis, asthma, etc.) and structural problems in the room (mould growth, mildew, etc.). To keep water vapour to a minimum, you can :
Opening the window while bathing or showering An open window allows moist air to escape and fresh air to enter.
Keeping the door open during your shower or bath Simply leaving the door ajar is enough to allow the humid air to escape to the rest of the house. This can be a practical solution if your bathroom does not have a window.
Installing an aerator If a ventilation system is not possible, an aerator is the right product for you. This solution is less expensive, but requires some work to adapt to your room.
How to avoid condensation?
To prevent condensation from forming, it is advisable to open a window or turn on your ventilation system. If your bathroom is not equipped with these elements, you can opt for a bathroom dehumidifier. In addition to limiting condensation, this product collects the moist air in the room and protects your home from mould problems.
As an alternative to collecting moisture, there are a few ways to reduce condensation on your mirror: coat it with shaving cream and wipe it down with a towel. This will keep it fog-free for a while.
You can also apply a lotion of vinegar and water (50/50) and spray your mirror with this solution. Then dry the mirror with a cloth and to ensure a streak-free finish, use newspaper.