Whether you are a private individual or a professional, do you want to equip your facilities with a highly functional air conditioning system? However, you are not aware of all the air conditioning systems currently available on the market?
In order to help you breathe fresh air at home and in the office at all times, we offer you the opportunity to discover different air conditioning ranges. In addition, you will get a real overview of the prices, which will allow you to define your budget in all serenity.
Mobile air conditioning
Air conditioning options for both home and business use are becoming more diverse by the day. Nowadays, everyone can afford mobile air conditioning. Indeed, this type of very practical air conditioning has a very accessible purchase price. For example, to purchase here a standard air conditioner model, you will only have to pay an average of 500 euros. For a room of 25 m², a model with a power of around 3,000 watts will be sufficient.
Also, the advantage of mobile air conditioning is its great agility. Indeed, it is easy to use. You can take it with you, in your living rooms as well as when you travel. To this end, manufacturers provide them with wheels that make them easier to transport. Also, this type of air conditioning will save you the cost of installation. Get a mobile air conditioner and do without the extra costs after the purchase!
Multisplit air conditioning
This air conditioning system is suitable for new buildings. Also, following a room renovation in your home, we suggest that you opt for this very popular model. A multisplit air conditioning consists of an outdoor unit in addition to several indoor units. This multiplicity of units offers the user, customisable fresh air flow management of each of its living rooms. In addition, this type of air conditioning is highly appreciated for its remarkable power and silence.
You can enjoy a good night's sleep and rest during the day without background noise. Multisplit air conditioning will save you a complicated installation. Indeed, because of its outdoor unit, Multisplit air conditioning requires very little space. In addition, it takes up very little space and fits perfectly into the space of a small flat. In terms of price, you should know that for a configuration of 4 rooms (of 20 m² each), you should allow up to 1500 euros.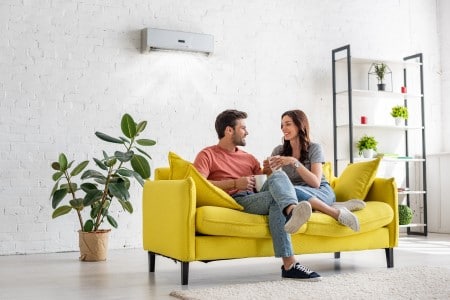 Monobloc air conditioning
Unlike the multi-split air conditioner, the monobloc air conditioner has only one indoor unit. Even if it is not a "power beast", the monobloc air conditioning does, however, have some good arguments. Indeed, it remains by far the most common option, in this case among households. This can be explained quite logically by its cost, which is around 300 euros.
Also, this standard air conditioning is a good investment in the long term. Compared to other energy-intensive models on the market, the monobloc air conditioning system is a good investment in the long term. it has a low energy consumption. The latter helps prevent high energy bills! In the home as well as in the business, it is therefore of obvious financial interest. Also, its installation does not require major work. However, once installed, expect to pay between €70 and €150 plus VAT per year for maintenance.
Reversible air conditioning with ducts
The special feature of a ducted reversible air conditioner is that it has concealed indoor units. The air flow is provided by ducts hidden in a false ceiling. Very flexible, this device will be useful in summer and winter. Indeed, similar to a thermodynamic heating system, the reversible air conditioning with ducts will ensure the heating of your home during the winter periods. Conversely, like a refrigerator, it will cool your living rooms in summer!
Its 2-in-1 system is its greatest asset. Therefore, it is equipped with several indoor and outdoor units. However, they can be monobloc. For an area of 90 to 100 m² to be cooled, plan on a budget of between 6,000 and 8,000 euros. In addition to this low price, the cost of maintenance is also high. For example, for a maintenance contract on a reversible ducted air conditioning system, you should pay between €150 and €180 in maintenance costs per year depending on the complexity of the technology.
VRV/DRV air conditioning
This type of multi-zone air-conditioning is mainly used in the tertiary sector characterised by large buildings. This is because, VRV/DRV air conditioning is known for its high power. This is why it remains the number one option for :
Administrations and local authorities ;
Museums and hospitals ;
Educational institutions and hotels.
VRV (Variable Refrigerant Volume) or DRV (Variable Refrigerant Flow) air conditioning is equipped with one or more outdoor units and a variable number of indoor units. Indeed, on VRV models, these units can be up to 60 as opposed to 50 for the DRV, which naturally explains the great interest shown by companies.
In a hotel, VRV/DRV air conditioning can supply each room with an indoor unit. But its characteristics coupled with its complex and time-consuming installation quickly make the final price soar! The purchase and installation of a VRV/DRV system with 5 indoor units alone can cost up to 20,000 euros. Moreover, its use remains particularly delicate.