The wood-burning stove is a great source of heat, especially in winter. However, it is important to use it properly to get the most out of it. To avoid unnecessary risks, here are our tips on how to get the most out of your stove this winter.
The importance of choosing the right wood stove
Wood-burning stoves are an excellent option for heating in winter. They are economical and can be installed in almost any home. However, it is important to choose the right wood-burning stove before making a purchase.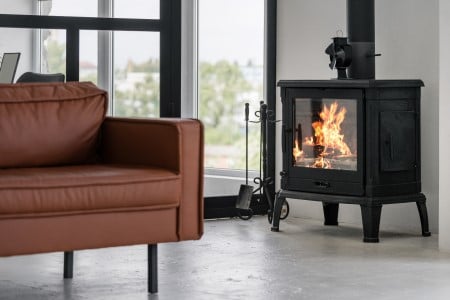 First of all, it is important to determine the size of the wood stove you need. The power of the stove is measured in BTU (British Thermal Unit). The more powerful the stove, the more it will be able to heat a large area. If you have a small room to heat, a small stove will be sufficient. However, if you have a large room to heat, you will need a more powerful wood stove to spread its heat.
It is also important to choose the right type of fuel for your stove. Most wood-burning stoves work with wood, but there are also pellet stoves, which use wood pellets as fuel. Pellet stoves are usually more economical than wood, but they do require a little more maintenance.
Finally, it is substantial to choose a wood stove that matches your decorating style. Wood stoves can be purchased in a variety of styles and colours. There are even wood stoves that can be painted to match your décor.
Are you looking for an economical alternative to electric heating?

>> Discover our complete guide to the best wood stoves
Wood-burning stove and safety: points not to be overlooked
It is important to prepare your wood stove properly before heating your home with it. There are a few things to consider if you want the stove to work properly:
Make sure that the wood stove is suitable for the size of the room in which it will be installed. If the stove is too small, it will not be efficient enough to heat your living space. If the stove is too large, it may overheat the room.
Choose a suitable location for your wood stove in the room. The location should be decided according to several criteria: proximity to furniture, flammable objects, openings (windows, doors), ventilation, etc. It is crucial to think carefully about the location of the stove before starting the installation.
Prepare the floor by levelling it and placing a protective plate (concrete, tiles, etc.) under the stove. This will keep the floor free of heat and flames.
Install the wood stove according to the manufacturer's instructions. It is essential to follow the instructions carefully, as there are a few points that must be respected for a good installation (for example, the height of the flue pipe).
Remember to ventilate the room well while the stove is in use, by opening the windows or the door to the room.
Remember to clean the wood stove regularly, removing soot and ash deposits, to prevent fumes from accumulating in the room.
If you follow these tips, the installation and use of the wood-burning stove will go smoothly and you will be able to enjoy a pleasant and warm heating in winter! However, there are a few caveats, for safety reasons, it is best to have your wood stove installed by a professionalBut why?
Installing a woodburning stove is a relatively simple operation, but it must be done with care. A qualified professional will be able to advise you on the type of woodburning stove best suited to your home and your desires. He or she will also be able to install it correctly and provide you with maintenance advice.
Our tips for good heating
It is important to use your wood stove properly for heating in winter. Here are some suggestions to help you:
Remember to air your house well. Stale air is harmful to your health and can cause headaches and breathing difficulties. So air your home every day, even if you have a wood-burning stove.
Choose good firewood. The wood must be dry and of good quality to heat well and to prevent the smoke from damaging your stove. Don't hesitate to call in a heating professional. For lighting your wood stoveUse firelighters and kindling. Do not use petrol or other flammable products, as they are dangerous. Then allow the fire to burn down slowly before adding larger wood.
Be careful not to overheat a single room. It is important to heat the whole house in a balanced way. You can also invest in a thermostat to regulate the temperature.
Clean your wood stove regularly. It is essential to clean the wood-burning stove at regular intervals to prevent the build-up of soot and residues. This also reduces the risk of fire. First, the stove should be turned off and the ashes allowed to cool. Then use a brush and hoover to clean the inside of the fireplace. Then the outside of the wood stove should be cleaned with a damp cloth.