The Intergovernmental Panel on Climate Change (IPCC) was established in 1988. It is a "forum for synthesising state-of-the-art knowledge on climate change and the role of human activity".
It publishes numerous works, and above all assessment reports so that governments can direct their choices in terms of the fight against climate change. This was the case for the 5th report in 2014, and recently for the 6th assessment report that the IPCC has just published in February 2022.
More specifically, these reports are divided into four parts: scientific basis, mitigation, impacts, and a synthesis. The report published in February 2022 concerns the impacts of global warming. Alors, que retenir de ce rapport basé sur l'étude de 34 000 articles scientifiques passés au crible bénévolement par 270 auteurs ?
Impacts already present
The impacts of climate change are not just a problem of projection into the future, but are already present on every continent of our battered blue planet. With a temperature increase of 1.1 degrees currently compared to 1850, a 9 cm rise in sea level compared to 1993, and Fossil CO2 emissions increased by 68 % between 1990 and 2019, impacts exist on both people and systems.
There are impacts on ecosystems with changes in structure and balance of species and vulnerability of habitats. A worldwide reduction of half of the habitat areas of species has been observed.
Il y a aussi des impacts sur le système de société des Hommes via les impacts sur le hydrological cycle and water quality (particularly in Africa and the Mediterranean region) and agricultural production, impacts on health (diseases, air quality) or directly on cities.
In France, we have already seen more frequent heat waves causing the death of fragile people in particular, more frequent droughts, and sometimes less productive harvests in certain regions and at certain times.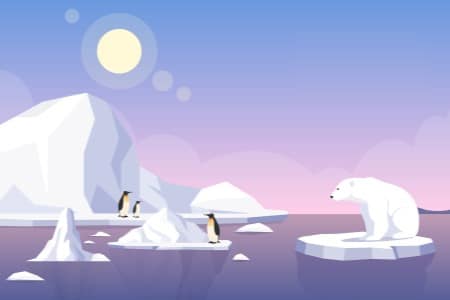 In addition, some impacts are irreversible unfortunately. The melting of the Greenland ice is a perfect example of a case that is irreversible; or some extinct animal species. Taking action for air quality and our climate impact is now an absolute necessity.
Future impacts of climate change
The impacts are present today, but what about future impacts? Globally, all these impacts will continue and intensify to a greater or lesser extent depending on the scenarios and the choices made concerning the vectors of global warming such as GHG-emitting energy.
Moreover, short-term impacts can only intensify, as they are the result of our current system. Indeed, the link between humans and the planet is a highly inertial system, and the consequences are not the result of current actions. In the case of a strong current transition, the mitigation of impacts would only be seen in the long term. The impacts in 20 or 30 years' time will therefore be at least the same as today, but more intense, because they are irreversible. On the other hand, irretrievable does not mean that all is lostThis is because the impacts can always be reduced, or at least stabilised.
For example, if the decline in agricultural production over the past 10 years is 4-10 % according to the IPCC, this decline will continue and cause malnutrition of more than 80 million more people than today's figures by 2050, and this for a 2 degree warming scenario.
Going further
For a more in-depth and detailed look at all the impacts, the report is available on the IPCC website. There are two possible entry points:
It is possible to read the full 3,675 page report. Not sure it can be read overnight.
Alternatively, it is better to go through the two summaries produced by the IPCC, with a more concrete 31-page summary for policy makers and a more comprehensive scientific summary of about 100 pages.