A rain gauge is an instrument for measuring the amount of rainfall. There are many different types of rain gauges available, at very different prices, and it is sometimes difficult to know which product to choose.
Used in many fields, this product has a number of advantages, whether for gardening, agriculture or meteorology.
Our comparison for the year 2023
Comparison updated on 18/03/2023
Thinking of buying an anemometer online and don't know which one to choose? Don't worry, we've got you covered.
In this article, we help you make an informed decision with the help of a clear and concise comparison. It will help you identify the product that best suits your needs, based on the opinions of many consumers.
1. Connected rain gauge for the Netatmo Weather Station
The best performer according to consumers
This rain gauge is a complementary accessory if you have the Netatmo weather station (does not work without it). Connected and wireless, it allows you to check the rainfall in real time on your smartphone, as well as the amount of water that fell an hour, a day, a month ago...
Pratique et intelligent, le Netatmo offre aussi la possibilité d'anticiper les averses à venir et de configurer une alerte pour vous avertir dès les premiers signes de pluie. D'après les consommateurs, c'est l'outil idéal pour garder un œil sur les conditions météorologiques en toute quiétude.
2. NTFA Dostmann Drop wireless self-draining rain gauge
Our favourite ❤
The TFA Dostmann Drop is a particularly practical rain gauge if you want to measure rainfall levels with ease, have wireless transmission and benefit from a 24-hour rain alarm.
Également esthétique, cet appareil ne nécessite pas d'entretien (sauf pour changer ses piles). Ainsi, grâce à sa fonction vidange automatique, vous n'aurez plus besoin de vous rendre dans votre jardin pour vider la pluie accumulée dans votre pluviomètre après chaque averse. Son petit + ? Les consommateurs apprécient la possibilité offerte de consulter l'historique des précipitations et sa plage de mesure plus que suffisante.
3. Rain gauge TFA-Dostmann 47.1001
An interesting price/quality ratio
The 47.1001 is both simple and effective according to consumers. With it, you can easily quantify the amount of rain that has fallen in your garden. The rain gauge is made of stable, high-quality plastic and has a patented memory setting ring. This makes it very practical to store your measurement values and compare them after each rainfall.
4. Bresser Wireless Weather Station (with rain gauge)
The Bresser Wireless Weather Station is a high quality rain gauge with external sensors for measuring rainfall and temperature.
In addition to displaying humidity, time and a histogram on a large screen, the Bresser weather station includes handy features such as ice/frost alert, temperature memory (minimum/maximum) and a backlight function.
5. Wxcteam Decorative Rain Gauge
Would you like to add a little fantasy to your garden? Then stop looking and get a hand-painted garden gnome! Made of resin and plastic, the statue is accompanied by a rain gauge made of polymer. Quite original, the set will be the perfect addition to your collection of little companions scattered around the garden.
Is a rain gauge useful?
The rain gauge is obviously an indispensable tool for the study of meteorology. Climatologists use it to study weather variations by comparing records from one year to the next.
However, you don't have to be a meteorologist to need a rain gauge. It is often forgotten, but farmers and gardeners alike usually need this device:
To predict future waterfalls. By referring to the data collected in previous years, the gardener can anticipate the next rainfall.
To adapt to the climate. If the information compared from one year to the next differs too much, the gardener can act accordingly.
To know when to harvest. If the rainfall is sufficient, the gardener will be able to determine when to start harvesting. If not, he can always choose to water his plants manually to save his crop.
To find out if plants/crops are in water deficit/excess. If the rainfall observed is not good, it is the gardener's responsibility to water the garden. If the rainfall is not good, the gardener should stop watering to avoid drowning the plants.
Of course, in order to take full advantage of the rain gauge, the gardener must know how to interpret the readings. To do this, he must make the data collected consistent with the water requirements of the species grown. A good knowledge of the characteristics of the plants grown is therefore essential.
What are the different types of rain gauges
There is a wide choice of rain gauges. With so many options on the market, we have chosen to show you the different types of rain gauges that you can find on the market:
The direct reading rain gauge with manual emptying. It works almost like a kitchen measuring bowl and displays the amount of water that has fallen. It must be emptied regularly and manually to ensure the reliability of the measurement.
The direct-reading, self-draining rain gauge. Similar to the previous model, the only difference with this product is that the water collected is automatically emptied into two small troughs. The calculation of the volume of water that has fallen is based on the number of movements of the troughs.
The rain gauge connected to a weather station. More expensive, it must be powered by an electrical source. It empties itself automatically after a given period of time, then transmits the information collected to a weather station.
The rain gauge for automatic watering systems. It is also connected and communicates the information collected to an automated watering centre. The aim of the central unit is to determine the quantity of water to be sent to the crops, after reprocessing the volume of rainwater that has already fallen.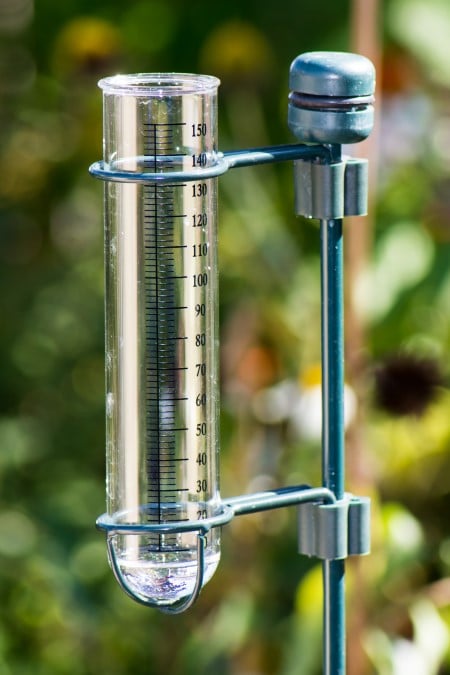 How does a rain gauge work?
Although a rain gauge is relatively easy to use, it does hold some secrets. In order to avoid any mistakes in reading its results, here are some explanations to help you inform you about the climate while operating your rain gauge in the best way.
How to read a rain gauge?
It all depends on the type of rain gauge you use. Not all rain gauges read the same way, so you need to match your reading method to the type of rain gauge you have.
If you are using a standard rain gauge (direct reading and manual emptying): as soon as the period you decide to analyse ends, you just have to look at the level at which the water has stopped. The quantity displayed (in millimetres in most cases) will have to be interpreted afterwards.
If you are using a self-emptying direct-reading rain gauge: you will need to calculate the number of movements your container has made. Multiply this number by the amount of water the container is capable of storing.
If you are operating a rain gauge that is connected to a weather station or a central sprinkler system, the data collected will be displayed immediately on the device to which it is connected. The results are usually "translated" into rainfall per square metre.
How to calculate rainfall?
Rainfall is measured as the amount of water falling on the ground per unit area. Rain gauges usually display measurements in millimetres.
Conventional rain gauges consist of two components:
the collector, which acts as a funnel and collects the water over the largest possible area. In particular, it prevents the water from evaporating by acting as a cover.
The calibrated container, which is nothing more and nothing less than a tank graduated in millimetres.
If your device is reliable, 1 millimetre displayed on your rain gauge is equivalent to 1 litre of water falling per square metre. In the case of connected rain gauges, the rainfall will be displayed directly on your weather station or on the connected device.
Nowadays, some systems can be combined with mobile applications, which will inform the owner about the status of his plots.
How to interpret the results given by a rain gauge?
Le jardinier (ou l'agriculteur) utilise les données récoltées pour savoir comment gérer son champ/potager. Si les précipitations sont élevées, il devra opérer à un arrosage moins conséquent. De plus, face à la baisse des orages ces dernières années, les informations obtenues permettront d'adapter les récoltes et leur arrosage afin de devancer les sécheresses à venir.
Meteorologists will have to compare the results from one year to the next to find out the rate of climate change and possibly propose solutions to adjust to its variations.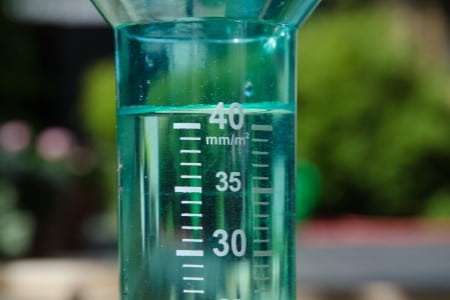 Where and how to install my rain gauge?
To ensure that you get relevant results, you need to setting up your rain gauge in a suitable location. Wind, heat (causing evaporation of harvested water) and vegetation can all affect the results.
Therefore, be sure to observe the following tips if you do not want to end up with distorted data:
Mount your rain gauge between 0.5 and 2 metres from the ground;
choose a flat site;
Install your rain gauge away from shelters or walls that could prevent water from falling on it;
Place your rain gauge away from trees, as they can prevent water from falling into the rain gauge, but can also clog the gauge with leaf litter.
Finally, remember to empty the instrument systematically.