Whether you are a meteorologist or not, it is very likely that you will need a thermometer one day. Indoor or outdoor, celcius or fahrenheit, bimetallic or glass, there are a multitude of different models on the net and in shops. So which one should you choose?
To help you, our team has put together a short summary of everything you need to know before buying a thermometer.
Our comparison for the year 2023
Comparison updated on 20/03/2023
Thinking of buying an anemometer online and don't know which one to choose? Don't worry, we've got you covered.
In this article, we help you make an informed decision with the help of a clear and concise comparison. It will help you identify the product that best suits your needs, based on the opinions of many consumers.
1. Govee indoor thermometer
The complete package according to consumers
The Govee is an easy-to-use, feature-rich indoor hygrometer. Supplied with a large LCD screen, which displays data in large characters, this device is updated on average every two seconds and displays accurate temperature to +/- 0.5 degrees C and humidity to +/- 3 %. The digital display is also complemented by three levels of comfort indicators: dry, comfortable and humid.
What really sets this hygrometer apart is the detailed reports and readings it can transmit to your smartphone via Bluetooth (with a range of up to 80m). Capable of storing data for up to 20 days, this device also displays all previous measurements. Whether it's a day, week, month or year, the weather conditions in your home will no longer hold any secrets for you.
2. Oria Indoor Thermometer
Our favourite ❤
The Oria is an indoor thermo-hygrometer with simultaneous temperature and humidity display on an HD LCD screen. It provides accurate real-time data and trends of temperature and humidity in your home.
Powered by 2 AA batteries (not included), this model is lightweight and portable. Among the features most highlighted by consumers are the unique round design that adds an aesthetic touch to the device, and the comfort icon displayed on the screen that indicates whether the atmosphere is too dry, normal or too humid.
The little extra that makes the difference: in addition to its attractive price, the Oria offers a one-year warranty and attentive customer service.
3. Houdian Mini Indoor Thermometer
An interesting price/quality ratio
With the Houdian mini hygrometer, you can accurately determine the temperature and humidity level in your home. Indeed, this thermometer has a wide range of measurements between -50 °C and 70 °C. The humidity readings are not left out, as you can consult the relative humidity rate over a range of 10 % to 99 % RH.
This hygrometer is particularly accurate and has a low margin of error. Deviations of ±1°C for temperature and ±5 % for relative humidity are observed. Finally, to make it easier to read, this device also has a smiling face. So you know exactly when it is time to dehumidify or humidify your home.
4. MAVORI indoor thermometer
The MAVORI is an extremely reliable bimetallic mechanical hygrometer. It is factory calibrated and ready to use straight out of the box. It is supplied with calibration screws, but you can also calibrate it yourself if you wish to fine-tune it.
Made of brushed stainless steel, the entire case, including the stand, has a durable and elegant appearance. The aluminium dial and the solid, genuine glass cover are particularly well finished. With a diameter of 12 cm, you will have no difficulty in checking the relative humidity and temperature of your home with this product.
5. ThermoPro TP50 Indoor Thermometer
The ThermoPro TP50 is a stylish and easy to use indoor hygrometer. It has a large digital display that shows you the relative humidity and temperature in your room. The data is displayed in large, easy-to-read characters, so you can see it from near or far. In addition, the TP50 is extremely accurate, with a margin of error of only +/- 1° for temperature.
On the display, we like the three distinct icons offered by the ThermoPro: dry, comfortable and wet. The instrument also allows you to display the temperature in degrees Celsius or Fahrenheit. So if you want to know exactly what the climate comfort in your home looks like, the ThermoPro TP50 is a choice that deserves your full attention.
6. Galileo Pearl Indoor Thermometer
Looking for a stylish and eye-catching thermometer? Look no further than the KOCH Galileo. This 40 cm high thermometer is based on a well-known law of physics: Archimedes' thrust. The principle is simple: as the temperature rises, the liquid in the thermometer expands and influences the balls in its liquid body.
The Galileo has 7 floating balls and allows you to read the temperature over a range of 16°C to 28°C. To do this, simply look at the temperature displayed on the plate of the lowest floating ball. Available in a variety of colours and sizes, this item will look great in your home or office.
7. SwitchBot Indoor Thermometer
The SwitchBot Hygrometer Thermometer is perfect if you want to monitor the temperature and humidity in the garden, baby's room or your office. This device features a Swiss-made sensor for reliable data monitoring. With a margin of error of ±0.2°C and a relative humidity accuracy of ±2 %, this device refreshes every 4 seconds to keep you informed of changes in its environment.
Equipped with Bluetooth capability, the SwitchBot is able to alert you from up to 120m away if the temperature or humidity falls outside your preset range. Another interesting feature is that this model can be converted into a WiFi thermometer when used with the SwitchBot mini hub (sold separately), unlocking more possibilities. For example, you can view recent temperature and humidity records, display the data graphically and export the information as a .csv file for analysis.
8. Homidy indoor thermometer
Our former ❤ (ranking 2022)
The Homidy is a high-quality digital hygrometer-thermometer with a stylish and durable body. Made of environmentally friendly parts, it offers exceptional accuracy in measuring temperature (+0.3 %) and humidity (+3 %). This accuracy is made possible by its Sensiron digital sensors from Switzerland.
As far as the display is concerned, the Homidy has an electronic ink screen that allows a 360° HD visualisation of the characters displayed. Among its functionalities, consumers seem to appreciate the choice of displaying the climate comfort in Fahrenheit or Celsius, as well as the 6 different facial expressions, useful to know at a glance the ambient climate comfort.
What are the different types of thermometers?
First of all, you should know that there are many different types of thermometers. Each of them has its own qualities, so you need to analyse how you want to use your thermometer to select a model that suits your needs.
In meteorology, there are four main types of thermometers, which we present below.
Bimetallic thermometer (dial)
This is the thermometer you might see in saunas, for example. The dial thermometer has a bimetallic band that expands with the heat and indicates the temperature by means of a needle.
Aesthetic and reliable, it is capable of measure temperature in the most inaccessible places. In addition, it covers a wide temperature range (between 25 and 500 degrees Celsius).
Glass thermometer (mercury or alcohol)
This is the classic thermometer, the one everyone knows. It consists of a tube filled with mercury which increases in volume with heat.
The advantage of this type of instrument is that it can operate without an external power supply.
Galileo's thermometer
The operation of the Galileo is relatively simple: small ampoules filled with liquid rise to the surface when the liquid expands due to heat.
The big plus of this type of thermometer is its aesthetic aspect. It can be used as a decorative object in your living room, your kitchen or even in your garden.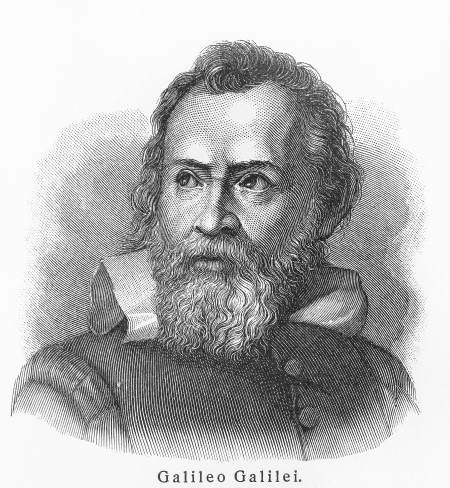 The sensor thermometer
This model operates with a sensor that allows the device to measure temperature. The sensors can be different: thermocouple, thermistor, and the platinum resistance sensor.
The advantage of this type of thermometer is that it can withstand very high temperatures. In addition, it is very accurate. Some models are real little weather stations that allow you to all about the weather in which you find yourself.
Most sensor thermometers nowadays offer a humidity option that measures the degree of humidity in the air. This is essential for a good indoor space, especially when you consider the impact that extreme humidity can have on your health.
Can an indoor thermometer improve my comfort?
Since the global pandemic, people tend to spend more and more time at home, for example through confinement or teleworking. It is therefore important to work or spend most of your time in a pleasant and safe place. So what are the health risks of a place that is not at the right temperature?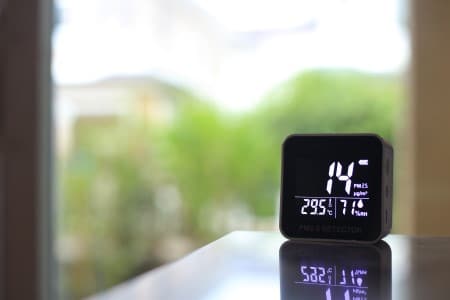 ENT problems The temperature of your flat will directly influence the condition of your mucous membranes (dry or too wet). This can lead to respiratory complications or simply help bacteria to grow.
Problems related to blood circulation Heat: heat has a vasodilatory effect that can cause serious problems for people with circulatory problems.
Sleep problems Heat has an adverse effect on the quality of sleep. Its vasodilatory effect delays sleep.
As you can see, the thermometer helps to prevent problems caused by poor room temperature. If you invest in a weather stationYou will have all the information you need to set the temperature and humidity level of your home.
In order to live in a comfortable place, it is recommended that you follow these tips.
For a living room :
Ambient temperature: between 18 and 20 degrees Celsius.
Moisture content: between 40 and 60 %
For a room :
Room temperature: between 16 and 19 degrees Celsius (between 18 and 21 degrees Celsius for babies and small children).
Moisture content: between 50 and 55 % (between 30 and 55 % for babies and young children).
If, after purchasing your thermometer, you find that these standards are not met, we advise you to adjust your heating for optimum climatic comfort and to invest in a humidifier for an ideal humidity level.
Beyond the physical comfort, note that a thermometer will allow you to make some savings. Indeed, one degree more in the house can represent up to 7 % more on the bill at the end of the month. The thermometer will therefore be an indicator to know if you are not exceeding the limits.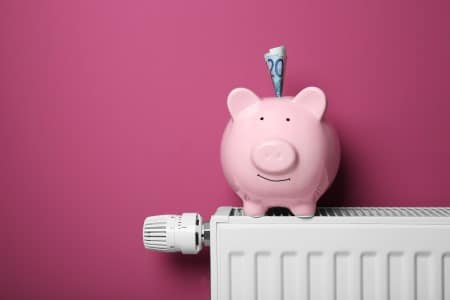 Where to place a thermometer indoors?
Using a thermometer may seem very simple, but you need to know where to place it. To avoid your data being distorted by interfering elements, make sure you follow these steps:
Place your temperature sensor at least one metre above the ground. If not, the temperature that will appear will be that of the ground surface (generally more affected by the external elements).
Avoid placing your thermometer too close to a heat source (at least one metre). It is obviously warmer next to the radiator than in the rest of the room.
Do not stick your temperature sensor on a wall that is in contact with the outside. The displayed temperature will be biased by the external temperature.
Do not place your sensor in direct sunlight. The temperature it will indicate will be abnormally high due to the heat emitted by the sun.
Place only one sensor per room.
Where to place a thermometer outdoors?
Like the indoor thermometer, the outdoor thermometer must be strategically placed to provide a reliable temperature reading.
Do not place your thermometer in direct sunlight. This could result in the temperature being higher than the actual temperature.
Install your thermometer in a place protected from the elements. Wind, rain or sun can damage your thermometer.
Place your thermometer at least one metre above the ground. The temperature on the ground is much more affected by the weather.
Keep your thermometer away from heat sources. Barbecues, planchas and other grills can distort the temperature.
Place your thermometer in a ventilated area. Places that do not have good air circulation will tend to give an inaccurate temperature.
Avoid concrete or asphalt surfaces. Both materials tend to store a lot of solar heat.
Do not place your thermometer directly on the wall of a house. The heat emitted by the house may distort your data.
Do not place your thermometer near flues or chimneys. These types of flues are a source of heat and will affect the results given by your thermometer.