It's here: summer is just around the corner and, as always, you expect your home to suffocate under the accumulated and increasing summer heat. Airing your home at night and closing the shutters during the day are your main reflexes, but have you thought about the split air conditioner?
Space-saving and efficient, more and more French people are opting for this solution to combat the heat. However, the air conditioning market is very well supplied. It is therefore not easy to choose between a monobloc, window, split or reversible air conditioner: you can quickly get lost. So why should you choose a split air conditioner?
Our selection for the year 2023
There are many split air conditioners on the market. To make your choice easier, we have narrowed down our selection to 5 products that we believe are the best for your home in 2023.
1. Kältebringer reversible split air conditioner (wifi connected)
The most efficient
2. Dimstal Eco Smart Inverter split air conditioner (wifi connected)
Our favourite ❤
3. Klarstein Windwaker Eco reversible split air conditioner
The best value for money
4. Daikin Sensira FTXF25A 9000 split reversible air conditioner (wifi connected)
5. Termotek Airplus C12 split air conditioner
How does a split air conditioner work?
"Split" is a word of English origin that means "to separate". This is the principle on which this air conditioner works. It is made up of several units placed in different rooms of your house or flat. All of these units are connected to an outdoor air conditioning unit via a refrigeration line. The role of the split air conditioner is to absorb the heat present in a room and to evacuate it to the outsideThis allows the entire dwelling to be cooled, and create a pleasant atmosphere for its occupants.
Nota bene Some models have a so-called reversible option. These air conditioners have an air conditioning mode and a heating mode.
How to choose your split air conditioner?
The split air conditioner has many advantages over other air conditioning systems. It makes less noise, takes up less space, is more powerful and, moreover, consumes less energy. However, there are a number of things to consider before making your purchase.
Cooling capacity
The cooling capacity is one of the crucial elements in your purchase decision. It has an impact on the operation of your air conditioning system. To put it simply, if you don't have enough power, the air conditioner will run on overdrive and use more electricity than it needs. On the other hand, if you have too much power, you will have bought an appliance that is probably too expensive for its intended use.
In order to choose an optimal power, several factors should be taken into account:
The volume of the rooms ;
The configuration of the house ;
The exposure of the rooms and their insulation;
You can make these calculations yourself or, to make sure you make the right choice, use the services of an air-conditioner.
If you have a studio or small flat, a single-split air conditioner will be more than enough to cool your home. If you have a large flat with several rooms, you will need a multi-split air conditioner. This is the same version as a single-split air conditioner with several units placed in each room to be cooled. With this system, your whole house will be able to enjoy cool air all summer long!
The choice of refrigerant
The legislation on refrigerants has evolved considerably, as most of these products are highly polluting. This is the case of CFCs (Chlorofluorocarbons), which have been banned since 2001, and HFCs (Hydrofluorocarbons). So turn to more environmentally friendly natural fluids such as propane (C3H8) or isobutane (C4H10).
Here are some criteria to consider when choosing your refrigerant:
Good thermal stability;
The right pressure for the materials in your air conditioner;
Good ability to mix with the lubricant;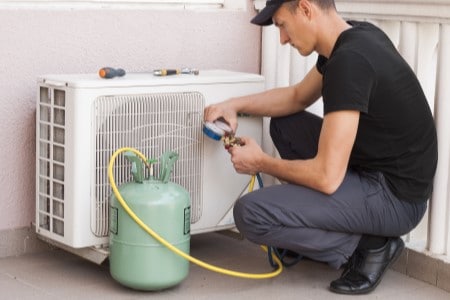 Also choose the fluids that are least dangerous to humans. Although all are highly flammable, some are particularly harmful to us. For example, ammonia is irritating to the skin and respiratory tract and has a corrosive effect on certain objects. So make sure you are well protected when handling these fluids, including wearing gloves, a mask and glasses.
Connected air conditioners
For some years now, split air conditioners have been able to be connected (ideal for a smart home). In this digital age, this may seem like a no-brainer.
We advise you to opt for a connected air conditioner. This has many advantages. Thanks to its wifi connection, the connected air conditioner can be controlled from anywhere. This provides unprecedented ease of use: you can switch on the air conditioner a few minutes before you get home, or set precise time and temperature programmes.
What's more, you can centralise the controls of your air conditioning if your home is connected, making life easier.
Can you install your own split air conditioner?
In some cases, the installation of a split air conditioner can be done by the customer. To do this, the model purchased must already be assembled and "ready to install". All you have to do is find the right place, bring your toolbox and you're ready to go!
However, most of the time there is a coolant to handle. It is then mandatory to have your air conditioner installed by certified professionals. Connection contracts will certainly be offered at the time of purchase. You can also contact a professional for a free quote: you are under no obligation:
Our advice Take time to choose the right model and range for your intended use, as the price range is very wide. Also pay attention to the colour and design of the product so that it fits in perfectly with your decor and does not stand out.
How to maintain your split air conditioner?
Like any household appliance, maintenance is necessary if you want to extend the life and optimise the operation of your monosplit or multisplit air conditioner. A few basic gestures are enough, but it is important to think about them. Let's see which ones.
The big clean-up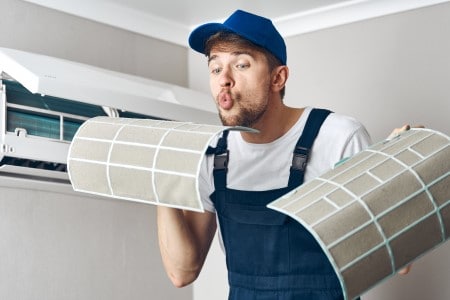 You can maintain your air conditioner yourself. A monthly cleaning will keep your unit in good condition:
First, make sure the air conditioner is turned off.
Next, open the outer panel to reveal the air filter: this is the central element of your appliance, as it retains dust, pollutants and also allergens. It contributes to the purity of the air you breathe.
First check the condition of the filter: if it has a hole in it, it should be changed, otherwise remove it and wash it with soap and water before letting it dry.
Once it is completely dry, you can replace it and enjoy healthy air.
There is also a component that should be checked once a year: the active carbon filter. Dirty, it is responsible for the bad smells that your appliance can produce. It is located in the indoor unit and must be cleaned or replaced if damaged. The price of this type of filter is around ten euros.
The maintenance contract
You can also opt for a maintenance contract at the time of purchase. You should expect to pay around 100 euros for annual maintenance. The advantage is thatin the event of a technical problem, you will not have to call in a repairman. The intervention of the specialist solves all the problems of your appliance, so you are assured of having an operational air conditioner for many years.
As you can see, the purchase of a split air conditioner is a profitable investment that will undoubtedly improve your quality of life, so don't hesitate.