Our selection for the year 2023
1. Klarstein Whirlwind air freshener
2. Klarstein Smart air freshener
3. Klarstein Skyscraper Ice Smart air freshener
4. Aigostar Olaf air freshener
5. oneConcept Kingcool air freshener
The oneConcept Kingcool 4-in-1 air freshener not only ensures fresh air, but also frees the atmosphere from dust and odours thanks to its ionisation function. In addition to providing a very powerful airflow (up to 2340 m³ of air per hour), the separately controlled oscillation allows the front rotor of the unit to rotate like a turbine, which ensures a better distribution of the airflow in the room.
Self-contained and efficient, the Kingcool is equipped with an 8 litre water tank, giving it plenty of capacity to spray cold water for hours. The practical functions of this air freshener are easily accessible via the control panel or the remote control.
How does an air cooler work?
How to choose your air cooler?
Airflow
Sound power
Humidification and ionisation
Air humidification This is achieved through the standard operation of the unit. This is because when the air is captured by the wet pad, the water evaporates and generates fresh air through the absorption of heat. Usually, the wet pad is partly made of ice, so that the atmosphere in your home is properly cooled.
Ionisation Negative ions are created from the electrons that have latched onto the various oxygen molecules in the air. The greater the amount of negative ions in your room, the more positive impacts it has on your health.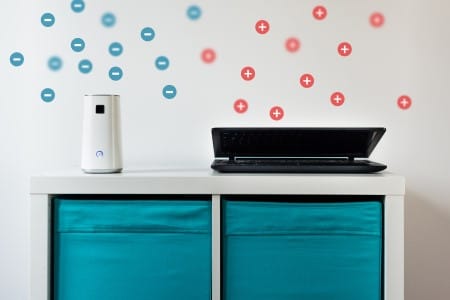 Water tank capacity
Water is an essential element in the operation of an air cooler, as it enables the air in the room to be cooled via the evaporation principle. The capacity of the water tank should not be neglected, as it is the main component of your unit.
The volume of the latter changes depending on the model. This can also affect the humidification or ionisation capability of your cooler. For example, the larger the tank, the longer the cooler will run. In the same sense, it will be more able to lower the temperature effectively.
Contrary to what most people think, we do not recommend looking for a cooler with a huge tank. Depending on the room you want to cool, you may not need a large capacity. For a bedroom, for example, a 2.5 litre tank will be quite sufficient. In a living room, however, you can opt for a 4 to 5 litre tank.
Size and design
How do I maintain an air cooler?
The water tank
The humidification pad
Storage