Auxiliary heaters are economical, mobile and efficient devices. Used to supplement central heating or to heat small spaces quickly (office, bathroom, bedroom, etc.), they are essential in a home, especially if you only want to heat one room.
Our selection for the year 2022
There are a large number of space heaters on the market. To make your choice easier, we have narrowed down our selection to 5 products that we believe are the best to heat your home in 2023.
1. Pro Breeze oil bath radiator
The most efficient
Looking for a quick and easy way to heat your home this winter? Look no further. The Pro Breeze is an electric heater that uses 8 heating fins capable of generating a total of 800 to 2000 watts of heat. This power makes this product perfect for small to medium sized rooms.
Among its functions, we appreciate the adjustable thermostat, very practical to find the ideal temperature for your needs, and the 24-hour timer. This means you can set the temperature and then forget about it. With its compact and stylish design, this space heater will look great in any room, whether it's your living room or bedroom.
2. Delonghi TRRS0920 oil bath radiator
Our favourite ❤
The Delonghi TRRS0920 is a particularly powerful oil bath heater: it uses state-of-the-art technology to heat your space faster than traditional models. Supplied with three different power settings (900/1100/2000 watts), this product gives you the perfect amount of heat for your needs. And for added safety, it has a built-in thermostat and a frost protection function.
During our tests, we were seduced by the Real Feel technology of this space heater. Indeed, this technology is able to bring the radiator to the desired temperature 2 times faster than traditional products, while consuming 20 % less energy. Combined with its elegant and modern design, this space heater is definitely a favourite for us.
3. Delonghi V550715 oil bath radiator
The best value for money
Are you looking for a powerful and efficient space heater? If you are looking for the best value for money, then the Delonghi V550715 is the right heater for you. With a heat output of 1500W, it is ideal for rooms up to 45m³. We also appreciate its compact and elegant design which allows it to be placed in any type of interior.
Its little plus? The shape of its heating fins allows the hot air to be pushed outwards more easily. This improves the convection effect (the air is +10°C warmer) and the heat spreads more quickly (+40 %).
4. Rowenta SO6520F2 fan heater
If you're looking for instant comfort in your home or bathroom, then the Rowenta SO6520F2 is the fan heater for you. With its Aqua Boost function, this heater will envelop your bathroom in 10 minutes with soft, pleasant heat.
This product is particularly quiet, has a transparent control panel for your convenience and meets the specific safety standard against humidity (IP21). We appreciate the 1.7 m length of its power cord: handy if you want to take it with you around the house.
5. Rowenta SO9265F0 ceramic fan heater
The Rowenta SO9265F0 is a compact, sober and versatile fan heater, capable of delivering exceptional heat thanks to the efficiency of ceramic. Its two adjustable speeds adapt perfectly to your needs. Thus, you can choose the "minimum" mode for prolonged use (discreet and comfortable heat) or "maximum" for a faster and more powerful fan heat.
A thermostat with frost sensor function is integrated into the appliance for your comfort. This allows you to effortlessly maintain the desired temperature in your home. Another advantage of the Rowenta is that it is also equipped with a double safety system that automatically switches off the heater in the event of overheating.
What are the different types of supplementary heating?
There are 4 types of supplementary heating:
The mobile convector ;
The radiant panel;
The oil bath radiator ;
The fan heater;
All are electrically powered and each has its own characteristics, advantages and disadvantages. If you wish to improve your thermal comfortIf you are looking for a heating system, we can only advise you to compare the various technologies in order to choose a heating system adapted to your needs.
The mobile convector
The mobile convector or convector heater is an auxiliary heater that works by convection as its name suggests. It is designed to heat small rooms and can be equipped with a fan to quickly distribute heat to the chosen location. The mobile convector is an economical solution if you need extra heating. The price usually ranges from 30 to 450 euros.
In terms of its operation, this device transforms fresh air into warm air by bringing it into contact with an electrical resistance. The heated air then escapes through the top of the heater and fills the room, raising the temperature. As this type of radiator is mobile, you can move it to different parts of the room or flat without any problems. Some products even come with a handle for wall mounting.
The radiant panel
The radiant panel is an electric auxiliary heater that works by convection, but also by electromagnetic infrared radiation. It consists of a front panel that releases the heat andan integrated carbon plate heated by a resistor. Radiant panels are electric heaters, accessible and more efficient than electric convection systems, but they tend to work in fits and starts, which does not allow for an even heating of the room.
They are perfectly suited to small rooms (bedroom, laundry room, shower room, etc.) or to slightly larger spaces in addition to central heating (living room, dining room, etc.). In terms of investment, the price of a radiant panel varies from 60 € to 1200 €. Apart from the power in Watts of the appliance, its programmability has a major influence on its cost.
The oil bath radiator
The oil-bath heater is an electric auxiliary heater that works with oil heated by convection. This type of radiator offers pleasant and uniform thermal comfort. It is mobile and represents a very efficient heating solution as the equipment heats up very quickly. In addition to its performance and inertia qualities, this space heater is practical and quiet. It therefore has many qualities for ensure the well-being of the occupants of your home.
Space heaters are inexpensive. Their purchase price varies between €30 and €150. Because of its ease of use, energy efficiency, comfort and discretion, this type of product offers excellent value for money. An electric radiator only works as an additional heater or in a small room. If you are considering buying one, ask yourself the right questions to select a model that suits your needs:
How much power should your electric heater have? Approximately 100 Watts per square metre.
How will you use it? If you use it regularly and frequently, choose a top-of-the-range model, which will last longer.
The fan heater
It is the ideal product for heating a small area quickly. The fan heater is similar to a fan, except that it emits hot air. It works in a simple way: the ambient air is captured by the device, which is heated by an electric resistance and then projected.
In winter, it is the most suitable supplementary heating system for an office, a shower room or a small work room. As soon as it is switched on, the heater warms up the room in a few minutes. On the other hand, fan heaters tend to be noisy, especially the more powerful ones, so we advise you to check the decibels (dB) before buying a fan heater.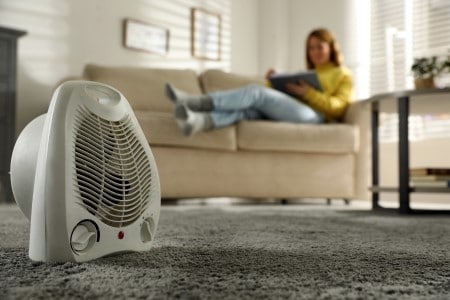 This is the cheapest heater of all. The price is unbeatable: a fan heater costs between 15 and 200 euros. In addition to the noise it makes, it has a few drawbacks. Its heat does not last and the device consumes a lot of energy. However, it is still a good solution for heating up small rooms quickly in winter.
What power should I choose for a space heater?
By default, allow 100 watts (0.01 kW) per square metre. But the power of your auxiliary heater will also depend on several parameters, including :
Ceiling height ;
The size and location of the room ;
Insulation ;
Energy consumption ;
On this last point, oil bath heaters are the least energy-consuming. On the other hand, fan heaters tend to consume more energy.
To choose the right supplementary heatingIf you want to heat a room with a ceiling height of 2.5 m, you will need to take these four parameters into account. For example, if you want to heat a room of less than 8 m², properly insulated and with a ceiling height of 2.5 m, you will need a supplementary heater of 800 watts.
Now, with a converted garage of 8 m² and a ceiling height of 2.20 m, you will need to choose a slightly more powerful heater. As the space is not properly insulated and the ceiling is not as high, you will need to use about 1200 watts.
How to use a space heater?
The operation of a space heater is extremely simple. For the most efficient use, we recommend that you follow these basic tips.
The location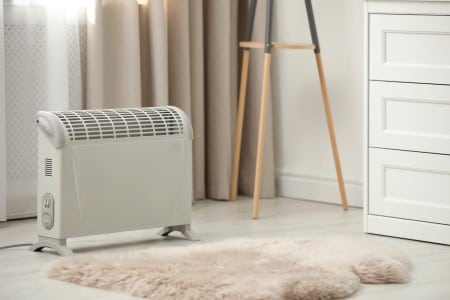 As they are mobile, there is no predefined location. This means that you can place your device anywhere. However, depending on the model you choose, certain precautions must be taken. If you have a radiant panel heater, do not place it near furniture. It emits a high level of heat that can damage them and even cause a fire.
In addition, your space heater, especially the fan heater, should not face the wall. Otherwise, you will greatly limit its effectiveness.
Ventilation of the room
If you turn on your space heater, do not ventilate your house at the same time. This will avoid unnecessary energy consumption. Although it is a practical and ideal solution, its effectiveness is limited. If you open a window or door, the heat will not remain and your space heater will heat up "in a vacuum".
Safety instructions
With the return of the cold, you want to keep warm. To make your home more comfortable, you decide to buy a space heater. You are right to do so. However, be careful to follow the safety instructions.
Do not cover your radiator (sheet, clothing, etc.);
Observe the minimum height between the radiator and the floor;
Do not install the equipment near your furniture or clothes;
For your shower room, respect the specific standards; *
* In a bathroom, electrical outlets near the floor are strictly forbidden. The radiator must meet certain safety standards (NF standard, CE standard, class II logo, etc.). If in doubt, ask for advice.