Mobile air conditioners are an excellent cooling system for dealing with summer heat waves, especially for bedrooms and other rooms with limited access to central air conditioning.
They are easy to install, provide instant fresh air, are feature rich for ease of use and, most importantly, are mobile.
Our comparison for the year 2023
1. Mobile air conditioner Trotec PAC 3900 X
The best performer according to consumers
The Trotec PAC 3900 X is the ideal mobile air conditioner if you're looking for a reliable, energy-efficient unit for your home or office. With three fan speeds and powerful cooling capacity, this product can keep any space cool and comfortable. Plus, it has a built-in dehumidifier to keep the air dry and prevent condensation build-up.
With a cooling capacity of 13,300 Btu, the Trotec will help you spend the summer in a cool and quiet environment with its 65 dB. In addition, it is equipped with a washable and reusable air filter that captures airborne particles and contributes to healthier and fresher air. Its compact and discreet design and low noise level make it the ideal air conditioner for any room.
2. De'Longhi Pinguino PAC EL112 CST mobile air conditioner
Our favourite ❤
The De'Longhi Pinguino mobile air conditioner is the ideal companion if you want to face the hot summer days! Energy efficient (A+ certified), this air conditioner offers a maximum power of 11,000 Btu and a coolness capable of cooling any room in your home.
With its compact design and quiet operation, this mobile air conditioner is easy to install and move from room to room. Its dehumidification mode also ensures optimal air quality and a healthy environment in winter. The CST remote control allows you to adjust the temperature and airflow from a distance. So you don't have to worry about the heat and humidity in your home.
3. Electrolux EXP34U338CW mobile air conditioner
An interesting price/quality ratio
EXP34U338CW is a complicated name for this Electrolux mobile air conditioner that will meet all your cooling needs! It is easy to install and move around thanks to its integrated wheels.
Enjoy 3400 W of power for optimal cooling and low power consumption. Its automatic temperature control function and integrated remote control ensure convenient and intuitive operation. The Electrolux EXP34U338CW mobile air conditioner is the ideal companion to ensure you relax and stay cool all summer long, and at a price/quality ratio that is proof against the summer heat!
4. Comfee Mobile Air Conditioner MPPH-09CRN7
The Comfee MPPH-09CRN7 mobile air conditioner is a mid-range unit designed to provide the best comfort and pleasant room temperature all year round. Equipped with a high-efficiency compressor, it provides an even distribution of cool air in the room and gives you a welcome feeling of freshness in all circumstances.
Its 9,000 BTU capacity is perfect for cooling small to medium sized rooms. Easy to install and maintain, this unit offers discreet operation at medium power. It is also equipped with a drain hose for easy and effortless cleaning of the water collected in your flat.
5. Klarstein NB10ECO mobile air conditioner
The Klarstein NB10ECO mobile air conditioner is the perfect ally to keep your home cool and comfortable even on the hottest days. It offers powerful and fast cooling, and is very easy to use thanks to its LCD display and intuitive remote control functions.
It is equipped with a night mode for an adapted and efficient operation during your sleep phase. Its slim, modern design makes it easy to install or move around your home, allowing you to enjoy optimum comfort in every room. The Klarstein NB10ECO mobile air conditioner is an ideal investment to ensure pleasant and comfortable summers.
How does a mobile air conditioner work?
A portable air conditioner, also known as a packaged unit, is a type of air conditioner that can be moved very easily. It is a stand-alone device that can be installed anywhere in the room. Equipped with wheels attached to the bottom, the mobile air conditioner is very convenient and easy to install. The mechanism of portable air conditioners is similar to that of any other air conditioner. The main function is to draw air from the room, condition it to the desired temperature by extracting heat, and then release the cooled air into the room.
For this process to work, a portable air conditioner must have three key components: the refrigerant (to cool the air), the compressor (to compress the refrigerant) and the fan (to move the air). Once these components are assembled, here are the how a mobile air conditioner works :
The fan turns on itself and draws the warm and humid atmosphere of the room into the air conditioner;
The air is sent to the evaporator, whose role is to absorb heat. This heat in return allows the refrigerant to evaporate;
The evaporation of this liquid leads to the formation of the refrigerant gas, which is drawn in by the compressor. The compressor compresses the resulting fluid by increasing the pressure, which results in a rise in temperature.
This fluid in vapour form with a high temperature of up to 60 degrees then passes through the condenser which extracts the heat. The gas condenses and returns to its liquid form. At the same time, the heat is expelled to the outside via an exhaust pipe;
The fluid then passes through the pressure regulator, which lowers the pressure, which also leads to a drop in temperature;
The fluid becomes colder than air and is therefore released to your delight. The cycle then starts again.
How to choose a mobile air conditioner?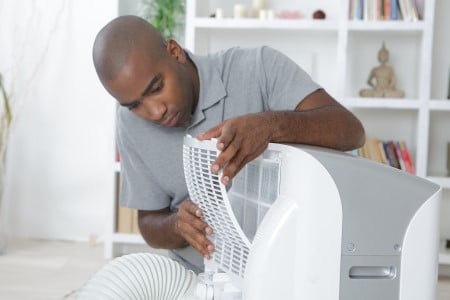 When choosing your mobile air conditioner, you need to choose a model that fits your space, is affordable and meets your main needs. To do this, you need to consider these factors if you want to create an environment conducive to well-being.
Ventilation
As you know, portable air conditioners in the process are called upon to evacuate hot air and cool the room. For this purpose, they should be installed near a window to exhaust air. Most portable air conditioners come with a ventilation kit and installation guide for placement near a window. However, you may be tempted to move your air conditioner away from the window for more comfort. In this case, opt for a model that has a more flexible kit that can be adapted to another air outlet.
Noise
Air conditioners make noise. Regardless of the model, you will always feel some acoustic discomfort once the unit is turned on. However, it is important to note that many manufacturers have made efforts to make air conditioners quieter and you can bet that they will mention the noise level on their marketing sheet.
In order to form the most objective opinion possible, you should consult a comparison and customer reviews on the subject. After all, not everyone is equally sensitive to noise. One thing is certain: no air conditioning system is silent.
Cooling capacity
Determining the room you want to cool is the most important factor when choosing your mobile air conditioner. If you buy a unit that is too small, it will run longer and more often, but will not be efficient. You should therefore choose an air conditioner with a cooling capacity that fits your room perfectly.
The cooling capacity of mobile air conditioners is measured in W/h or kW/h. It follows the following rule: 100 watts are required for optimal cooling per square metre with a ceiling height of 2.5 m.
Note that sometimes this cooling capacity is expressed in BTUs (British Thermal Units), which is nothing more than the Anglo-Saxon designation of this value. In this case, you have to divide the BTU value by 3415 to get it in kW/h.
How to install a mobile air conditioner?
Mobile air conditioners are not very difficult to install. The only constraint is that there must be an outside air outlet near the unit.
The location
Your portable air conditioner should be placed on the floor to receive adequate airflow and you should have easy access to its water tank. Also, even if you have a long ventilation hose, you should be able to access the water tank easily, your appliance will work more efficiently if it is placed closer to a window. Be careful not to kink the hose, however, as this can impede airflow and cause premature wear to your air conditioning system.
The caulking kit
Once you have decided on the location of your air conditioner, you need to think about how to insulate your room from the outside world while at the same time removing the hot air produced by your air conditioner. For this, we recommend that you choose a caulking kit.
Installed in the window opening, the caulking kit is a modular tarpaulin dedicated to sealing the opening at the window. Linked to the air conditioner, it allows the warm air to be safely released without re-entering the room. To install it, you can proceed as follows: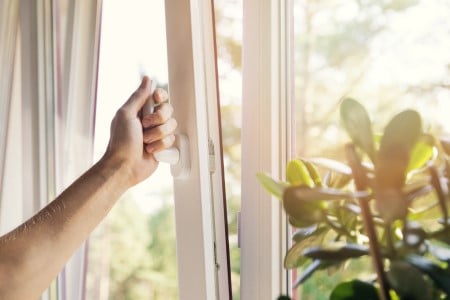 Clean the window with a damp, warm cloth to remove any traces of grease;
Wipe it with a dry cloth to absorb the moisture;
Open the window and apply the tape to the frame elements and the edges of the window;
Then place the insulating sheet over the adhesive with the side closest to the zip near the moving part of the window;
After installing the caulking kit cover, insert the air conditioner exhaust duct into the zip at the desired height;
Our tips for optimal air conditioning
Once your portable air conditioning system has been installed, you now need to think about its maintenance for optimal performance, but also about good practices for controlled use of your air conditioning. Here are some tips on how to do this.
Remember to clean your air conditioner regularly. If necessary, contact a professional to guide you in this type of operation;
Make sure all air vents are clear. If you are concerned about the efficiency of your air conditioning system, take the trouble to double-check to make sure that all air inlets and outlets are not blocked;
Set your thermostat high. This sounds counter-intuitive, but the goal is to find the highest temperature that will make you feel comfortable. In reality, for every degree of temperature you have to lower, your air conditioner requires extra effort to cool the atmosphere, which leads to higher electricity consumption;
Keep lamps and other heat-producing appliances away from your air conditioner. The presence of heat-generating appliances near your air conditioner will tell it that the air in your home needs to be cooled further;
Insulate all exposed ducts;
Keep windows and blinds closed against daylight or heat;
Follow the recommendations in the user guide.