Efficient, economical and aesthetically pleasing, the wood stove has many advantages over other heating systems. It is particularly interesting for households looking for energy-efficient and user-friendly heating comfort. And while a gas stove or furnace can invigorate the body, a wood fire, with its crackling and crackling in a suitable stove, warms the spirit!
Our selection for the year 2023
There are many wood-burning stoves on the market. In order to make your choice easier, we have limited our selection to 5 products that we believe are the best to heat your home in 2023.
1. Wood burning stove Godin 388117
The most efficient
Do you want to keep your home warm this winter without sacrificing style? The Godin 388117 is the perfect solution! This wood stove has a contemporary and compact design, so it will fit perfectly in your living room. It has a manual regulation and can hold logs up to 50 cm long. With an output of 6.5 kW, this wood stove is perfect for any home.
Made of 100 % cast iron for durability, this clean design product will keep your home free of smoke and dust. With an efficiency rating of 78.2 %, you can be sure to keep your home warm all winter long.
2. Gomont 14 kW wood-burning stove
Our favourite ❤
The Gomont 14 kW wood stove is perfect for heating large rooms. With a body made of 100 % cast iron, the Gomont emits a high level of radiant heat capable of heating your home quickly. It also has a very low CO2 emission value and an efficiency rating of 75 %, making it a 5-star "Green Flame" stove that complies with BImSchV level II.
The stove can accommodate logs up to 45 cm in width, and the possibility of regulating the temperature of the stove thanks to its primary/secondary air function is appreciated.
3. Wood burning stove Prity 10 kW K2CP
The best value for money
Are you looking for the best balance between quality and price? Then the Prity 10 kW K2CP is for you! The design of this woodburning stove is built to stand the test of time and its double-walled combustion chamber (cast iron and brick) ensures efficient and even heating. Multi-fuel, the Prity can burn wood from sustainable sources, making it an excellent choice for those who want to reduce their carbon footprint.
This modern design allows the use of logs up to 40 cm long. Designed with a Japanese-made ceramic glass, your pleasure of enjoying the heat and the fire will only be increased tenfold.
4. Prity 10 kW wood-burning stove with baking oven
Do you want to add a touch of warmth and comfort to your home? Prity has the perfect solution with its 10kW wood burning stove with integrated oven and hob. Designed for both residential and commercial environments, this product features a cast iron grate, refuelling doors, ash drawer and a brick-lined valve to regulate the chimney draught.
With an efficiency of 77.1 % and a capacity for 30 cm logs, this stove is ideal if you want to heat your home and cook good food at the same time.
5. Wood burning stove Prity FG W18R with baking oven
Do you need a powerful and efficient wood burning stove with an integrated oven? Look no further than the Prity FG W18R. With a rated heating capacity of 5 kW and a rated water heating capacity of 18 kW, this stove is sure to keep you warm all winter.
It has a top-mounted smoke outlet and manual flap, as well as coloured side panels and feet. It also meets all European safety standards. Practical with its ash drawer, you can simply slide in your logs of up to 35 cm in length to enjoy its radiant heat.
What are the advantages of a wood-burning stove?
Very popular today, the wood-burning stove has many advantages that are linked to its efficiency and its mode of operation. A real argument for your indoor comfortThese devices combine aesthetics and performance while remaining economical in use.
Efficient and economical heating
Compared to fireplaces and other heating systems, wood-burning stoves are very efficient at heating a room. Indeed, these stoves generally achieve efficiencies of 50 to 85 %. A wood stove can heat a single room or a whole houseDepending on the size you choose and where you place it, it can be used for a variety of purposes. It also has the added advantage of being able to heat your home even in the event of a power failure.
Wood is an inexpensive source of fuel. It is cheaper than gas or electricity. By opting for the efficient use of a wood-burning stove in your home, you can save on electricity and gas bills, while improving the well-being of your residents.
Aesthetic heating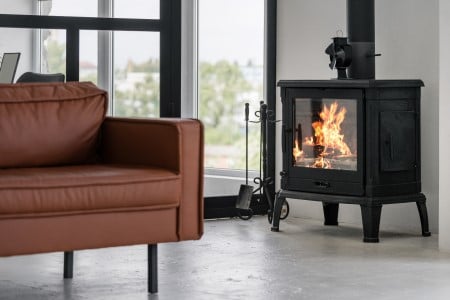 As well as being efficient and economical, wood-burning stoves also play an aesthetic role. Of course, modern wood-burning stoves are available in many different finishes, sizes and designs, making it effortless to find one that will perfectly suit the style and decoration of your home.
In addition, the use of this type of heating has many other advantages, such as the low (ecological) pollution rate, its durability or the flexibility it offers.
What are the different types of wood burning stoves?
Wood-burning stoves are appliances installed in homes to maximise heat production and the efficiency of burning firewood. Today there are several types of wood stoves, some more efficient, others more aesthetic.
The log-burning stove
As an auxiliary heating system, the log stove with its efficiency of 50 % is used to supplement the central heating system. This type of stove is highly recommended for your rapid heating and energy-saving needs. In addition, it gives your home an aesthetic appearance thanks to the burning of the logs and its easy integration.
The pellet stove
Unlike other stoves, the pellet stove does not use logs, but rather pellets for combustion. This allows it to havealmost zero pollutionThe stove has the ability to heat up to 80 %. The stove can be used as a main heater and has an autonomy of 1 to 5 days.
The hybrid stove
If you want to install a heating system that combines energy performance and respect for the environmentIf you are looking for a hybrid or combination stove, you can choose one. It uses both logs and pellets for combustion, but also incorporates combustion technologies such as single and double combustion, turbocombustion and post-combustion.
The improved combustion stove
Also known as a turbo stove, the improved combustion stove has the advantage of being very economical and can replace your central heating system. In fact, this type of stove offers to optimize the combustion and the output up to 70 %. It is in fact equipped with a second air inlet directed directly towards the heart of the steel hearth, allowing you to regulate the combustion as you wish.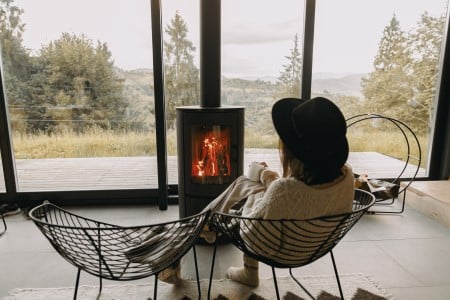 The double-burning wood stove
In general, wood combustion has a low energy yield of 30 % maximum with the release of waste gases. To increase the efficiency, you can opt for the double combustion wood stove which captures the gases and burns them again, hence the double combustion phenomenon. This means that you can achieve an efficiency of more than 80 % while protecting the environment.
The mass stove
If you are looking for a wood-burning stove that uses renewable energy such as wood and consumes less energy, the masonry heater is the one for you. Also known as a storage stove, this type of stove has the particularity of storing heat with its materials (earthenware, volcanic rock, etc.) and gradually return them to the room where they are located. It achieves an efficiency of 85 %.
The built-in stove
As the name suggests, this type of stove can be built into a wall. It saves space and offers a more contemporary and designer look to your room. However, this stove is not just for decoration. It also combines the energy performance of a pellet stove.
How to choose your wood stove?
Before buying your wood stove, whether it is a pellet or log stove, you should consider several criteria.
Power and heating surface
The first criterion to consider for your wood stove is the power and the surface it can cover. In general, this power varies between 3 and 20 kW. But before you can achieve a good performance that is the same as these values, it is essential that the stove is in the right conditions.
To do this, you need to determine whether your stove is intended to be used as a back-up or to supply a large volume of air. In reality, only masonry heaters with an output of approx. 20 kW can heat a house with one floor.
Size of the household
The firebox of your stove is the part that will receive the different logs. The size of the firebox will naturally have an impact on the length of the wood that is used. However, please note that the shorter the wood is cut, the more expensive it is sold. If you want to save energy, you should therefore take this criterion into account. In addition, the power, efficiency and volume of the firebox of your wood-burning stove are decisive for making the best choice, but the material should not be neglected either.
Stove cladding
Manufacturers generally use cast iron, steel or soapstone for the cladding of their wood-burning stoves:
Cast iron Cast iron: With cast iron, you have many more options and styles, as cast iron is an alloy of iron and carbon cast into moulds. This material is heavy and effective at retaining and radiating heat. Easy to clean, cast iron does not allow the temperature to rise quickly.
Steel These stoves are made of folded steel plates, which gives them a very simple and clean look. They are very popular because they are inexpensive and have the advantage of raising the temperature as quickly as possible.
Soapstone Soapstone stoves are mainly made of a stone called soapstone. This type of stove retains heat very well, as soapstone is very dense. Some people consider them to be the best stoves because they continue to provide heat long after the fire is out.
The heating element
The heating element is an important part of your wood stove. Indeed, it is in this body that the combustion of your logs or pellets will take place, including the temperature can approach 1,000°C. It can be made of cast iron, which allows it to store heat better, or of steel to raise the temperature quickly.
How to install a wood stove?
Today, many people choose to install a wood-burning stove. And even though there are many models that offer ease of installation, setting up such equipment in the home is not so simple. In fact, there are rules governing the installation of this heating system.
Strict regulations
Since 2006, all houses in France have been required to have a smoke extraction duct. The introduction of such a rule is part of the energy policy for individual houses. For this purpose, you can opt for three types of flue, namely :
The roof outlet which must extend at least 40 cm above the ridge of the dwelling according to the NF DTU 24.1 standard ;
The front exit for your wood stoves;
The suction cup outlet on the roof and façade.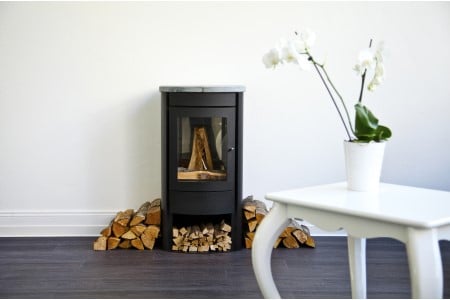 In addition to the installation of these extraction ducts, you should not forget the regulations in force for everything concerning the work of fumisterie. This NF DTU 24.1 regulation governs the installation of individual and collective chimney flues and casings and concerns wood stoves, pellet stoves, chimneys and others.
Calling in a professional
If you review all the standards that need to be met for the installation of the wood-burning stove and the criteria that need to be taken into account, it goes without saying that the use of a professional seems to be more appropriate.
And for good reason, a professional already knows the rules and standards to be respected. In addition, they will be able to guide you in choosing the best wood stove for your home and your needs. Another important point is that a professional will save you time and be more efficient during the installation.
If you would like to call on a local professional and get a free quote, you can make a request using the form below. The advantage? This does not commit you to anything and you will have all the answers to your questions (financing, cost, work, maintenance, etc.).
How to maintain your wood stove?
Keeping your wood stove clean will make it more efficient and increase its life span, saving you money in the long run. Here's how to do it.
Consider establishing a regular cleaning programme of your wood stove. Either every 15 days or once a month;
Opt for dry wood in your stove. Avoid using painted or varnished wood, as it has often been treated with chemicals, and don't be tempted to throw that empty packet of crisps into the stove;
Have some essential equipment ready before the cleaning session including newspaper (to cover your floor), gloves, a small brush, a small ash shovel, a bucket etc.
Clean the inside of your stove. Always make sure to wait for the fire inside the stove to cool down before emptying the ashes and wear protective gloves;
Cleaning the glass of your stove;
Don't forget the outside of your stove. This is usually a fairly simple job, and can be easily managed with a standard household hoover and using any soft brush to remove traces of dust or ash;
Clean the flue of your stove or chimney. This is probably the most delicate task, but an important one, as a build-up of ash in the chimney can prevent the smoke from being expelled properly.