It's winter and you are about to light your wood stove, but unfortunately nothing happens... There are many reasons for this problem: is your wood stove well maintained? Have you lit it correctly? Is the air supply sufficient? To help you solve this problem, we have prepared a checklist for you.
Check the fuel supply
The first step if you want to check why your woodburning stove is not lighting up is to examine its fuel supply. Ensure that the stove is well supplied with wood and that the ash drawer is empty. Your stove should also be clean and free of ash residue, as this could prevent it from working properly.
If the stove is clean and well fuelled, the problem may be due to poor ventilation. Make sure that the venting is clear and that the stove is well ventilated. It is also important to check that the stove is properly installed and that there are no air leaks.
Finally, also ensure that the wood is dry. A wet log is more difficult to light and will produce heavy smoke curls. With the help of a moisture meterYou can check that the moisture content is well below 20 %. If it is too high, the wood will not burn or will burn very badly.
Check the air supply
It is important to check the air supply when trying to light a wood stove. If the air supply is blocked, it will be difficult to get the fire going and keep it burning.
To ensure that there is sufficient airflow, We suggest that you check the flue pipes. They should be clean and free of obstructions. If the flue pipes are blocked, air cannot circulate properly and the fireplace will be damaged. your wood stove can't burn properly.
Another solution is to check the air supply duct. The duct must be clean and free of obstructions. If it is blocked, the air cannot circulate properly and the fire cannot burn properly.
Is your wood stove not powerful enough? Do you want to change it?

>> Discover our complete guide to the best wood stoves
Clean the ducts
The wood-burning stove is a very popular heating appliance, not least because of its warm, rustic appearance. However, it is important to remember that wood-burning stoves need to be serviced at regular intervals in order to function properly. If you are having trouble with lighting your wood stove, your flues may be blocked.
Ideally, you should clean the flues at least once a year. If you have not cleaned them for some time, soot deposits may have built up. These deposits can clog the flues and make it more difficult for your wood stove to ignite. In addition, soot can be harmful to your health, so it is important to ensure that your flues are properly cleaned.
There are several methods for cleaning flues. You can :
Buy chemicals from DIY shops, but it is essential to follow the manufacturer's instructions to the letter to avoid damage.
Use a professional cleaning company, but this can be expensive.
Use a hoover to remove soot from the flues. This method is generally considered safer than chemicals, but it is not always as effective. If you use a hoover, it is important to ensure that it is suitable for the purpose.
Use a pressure washer to clean flues. This approach is usually very effective, but can be a little more expensive than the others.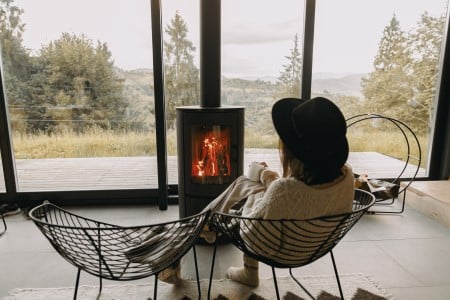 Once your flues are clean, it is important to inspect them regularly to ensure that they are not damaged. If you notice any cracks or crevices, you may need to have them repaired or replaced. It is also important to check the joints in the pipes to make sure they are tight.
Check the operation of the chimney
The chimney is an important part of the wood stove, as it is through the chimney that the fire will escape. It is therefore essential to regularly check that it is working properly.
If you find that the chimney is no longer working properly, it is recommended that you call in a professional to clean and repair it. This will avoid the risk of an accidental fire in your home.
Call in a professional
If you have followed these tips and your wood stove still won't light, it may be time to call a professional. A specialist will be able to diagnose the problem and explain how to fix it.