Today, environmentally friendly heating is increasingly necessary because of the negative consequences of greenhouse gases for our planet. Conventional heating systems are partly responsible for climate change and contribute to air and water pollution.
Green heating is a more sustainable and environmentally friendly alternative, as it does not use fossil fuels and reduces those famous GHGs. It can take many forms. It can be centralized heating by hot air distribution, a heat pump, geothermal, solar heat or biomass.
Each of these techniques uses different renewable energy sources to produce heat. They are more environmentally friendly, more economical and more efficient than conventional heating systems.
The different types of ecological heating systems
Ecological heating systems are environmentally friendly thermal systems with relatively low energy consumption compared to other conventional energy-consuming devices. As part of the energy transition, the installation of environmentally friendly non-gas heaters in households is an effective way of limiting the emission of polluting gases. However, it is not possible to control the emission of pollutants, ces chauffages doivent répondre à 3 critères essentiels avant d'être mis en place :
they must improve the combustion process and produce more energy, but with the same amount of fuel;
their use must be based on one or more renewable energies;
they must use fuel with a low environmental impact.
There are various types of environmentally friendly heating systems.
The air/water heat pump
An air-to-water heat pump is a heating and cooling appliance that transfers heat between outside air and inside water. It consists of a compressor and an evaporator, which transfer energy between air and water in the form of heat:
The evaporator captures the cold from the outside air and uses it to cool the indoor water.
The compressor captures heat from the outside air and uses it to heat the indoor water.
The air-to-water heat pump is powered by a unique ventilation system that allows outside air to circulate through the system and heat or cool the water as required.
The wood stove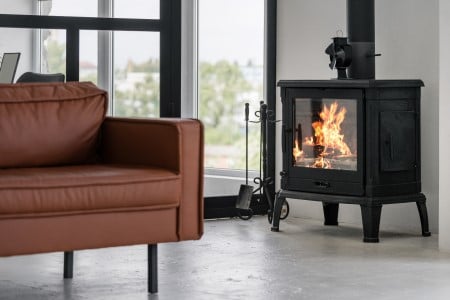 A wood stove works by burning wood to produce heat. Wood is placed in the stove, where it is heated and burnt. The heat generated is then radiated into the space, heating the air inside the room. The heat produced by a wood stove can be controlled by adjusting the wood burning rate.
Combined solar heating
Combined solar heating is a technology that combines the production of solar thermal energy with the production of electrical energy. It consists of a hot water storage tank, a solar collector and a high efficiency generator.
The solar collector captures sunlight to heat the water, which is then stored in the tank. The intensity of the heat is controlled by a regulation system. Once the tank reaches a certain temperature, the high-efficiency generator is activated to produce electricity. The electricity produced can then be used to power electrical appliances.
Combined solar heating is very efficient and can easily provide energy to a house. It can be used to heat water and generate electricity, which can reduce energy bills.
The gas micro-cogeneration boiler
A micro-cogeneration gas boiler is a heating and power generation system that uses natural or town gas to produce both heat and electricity. In general, the gas is first combined with air in a combustion chamber and burned. The heat produced is then used to heat the water for heating and the air in the house.
The hot combustion gases are then fed into a gas turbine, which produces electricity. The micro CHP boiler is then able to provide both thermal and electrical energy.
What are the advantages of environmentally friendly heating systems?
In addition to their significant environmental benefits, environmentally friendly heating systems have other advantages, starting with a considerable reduction in your energy consumption and which will save you money in the long term.
The installation of environmentally friendly heating systems in your home will also allow you to benefit from certain financial aid granted by the state in order to finance your ecological renovation project. In addition, this installation will increase its value to potential buyers if you wish to sell it in the future.
Price of an ecological heating system and how to install it
The price of an ecological heater varies from one model to another. For example, you will need to allow for :
between €8,000 and €13,000 for an aerothermal heat pump;
3,000 to €6,000 for a condensing boiler;
and up to €10,000 for solar thermal panels.
To this you will also have to add the installation and maintenance costs.
The installation of an electric heater requires the intervention of a professional installer and preferably a RGE heating engineer (Reconnu Garant de l'Environnement) in order to find the type of ecological heating that will best suit your home and will assist you in your ecological renovation project. Nevertheless, it is always advisable to compare between several different providers and to make estimates in order to benefit from a professional installation at the best price.