Have you invested in an air conditioning system and are you ready to face the hot weather? That's great, but have you been told that you need to have your air conditioning system serviced?
If your air conditioner contains less than 2 litres of refrigerant, you are not subject to this legal requirement.
Mandatory inspection since 2010
According to the decree n° 2010-349 of 31 March 2010, air conditioning systems containing more than 2 litres of refrigerant are now subject to periodic inspection. This control visit must take place :
3 years after the air conditioning is put into service
Then at least every 5 years
This check ensures that the air conditioning system is properly sealed. It is carried out by a professional authorised to handle refrigerants (certified and approved) who will give you a leakage certificate to be kept for 5 years, if your air conditioner complies. This check is compulsory and you can be fined if you forget.
Note that :
This inspection is not correlated with the maintenance contract signed with your installer, so you cannot deviate from it.
This obligation also applies to larger appliances such as evaporators, which are also subject to a microbiological disinfection.
Why make it mandatory to inspect your air conditioner?
Air conditioning systems contain a large amount of refrigerant that is particularly harmful to your health and that of the planet. In order to protect the environment and limit health risks for usersThe government has decided to introduce a mandatory periodic inspection for all air conditioning systems containing more than 2 litres of refrigerants.
This check ensures that your appliance is properly sealed and maintained. In addition, it limits the occurrence of leaks and helps to reduce energy consumption by ensuring that your appliance is working properly.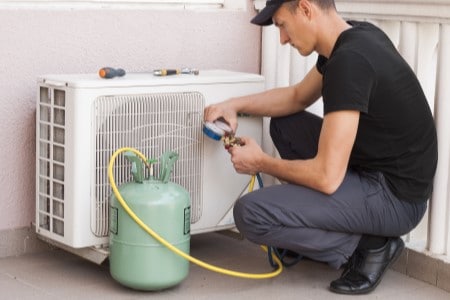 What is the inspection?
During the periodic inspection, the technician in charge of checking your air conditioner aims to determine whether or not your appliance is at risk of refrigerant leaks. Once the risk has been eliminated, the technician will check the filters in your installation and may make recommendations to optimise the cooling of your room.
This advice is based on the capacity of your air conditioning system, but also on the size of the room to be cooled. Once the inspection is complete, a report is drawn up and given to you. This report must be kept for 10 years.