We live in a world where air pollution is on the rise. However, before you start looking for a suitable solution to filter the air in your home, you need to know how polluted the indoor air is.
You can choose an air quality sensor for this purpose. With it, you will always know your indoor air quality (IAQ) index. You can then take action (airing or purifying the atmosphere) as soon as the IAQ deteriorates.
Our selection for the year 2023
There are many air quality sensors on the market. In order to make your choice easier, we have limited our selection to 5 products that we believe are the best for monitoring air pollution in 2023.
1. Air quality sensor Airthings View Plus
The most efficient
The Airthings View Plus is the sensor with one of the most advanced technologies in air quality. According to the WHO, 9 out of 10 people in the world breathe unhealthy air. With View Plus, you can keep your family safe from airborne pollutants. Whether it's carbon dioxide, humidity, radon or particulate matter, this device is the perfect companion to take action on the quality of the air you breathe inside.
Battery-powered (or USB), this sensor has Wi-Fi and Bluetooth connectivity and a customisable display. Simple and intuitive, it gives you access to comprehensive data and reports on the air you and your family breathe every day in your home.
2. Netatmo air quality sensor
Our favourite ❤
The Netatmo is a device with an infrared NDIR sensor. Practical and intelligent, this air quality sensor tells you which parameter to adjust to create a healthy environment for you, your baby or an asthmatic person. The Netatmo is highly accurate and can detect carbon dioxide over a measurement range of 0-5,000 ppm, as well as relative humidity, temperature, indoor/outdoor air purity and noise level in your home.
CE approved, this product is mains operated and does not have an LCD display, however, you can view the data and monitor your home's indoor atmosphere by connecting to your smartphone from anywhere. Simple and elegant, you can also tap the top of the sensor to make it light up and inform you about your indoor air quality.
3. Qingping air quality sensor
The best value for money
The Qingping monitor offers you a complete picture of the indoor air quality in your home. Capable of providing real-time information on weather and UV index, this beautifully finished aluminium product features high-level sensors from SenseAir and Sensirion. Coupled with its compensation algorithm, the measured data is therefore particularly accurate and reliable.
Equipped with a high-resolution touch screen, the Qingping also benefits from a mobile application allowing you to check the air quality in your home from anywhere. The innovative design and airflow structure of the Qingping is in close contact with the ambient air, ensuring improved measurement of pollutants in your environment.
4. Eve Room air quality sensor
This award-winning indoor air quality sensor with Apple HomeKit technology measures temperature, humidity and Volatile Organic Compounds (VOCs) in your home. Based on the concentration of harmful VOCs in the air, you can see when the indoor air quality drops. You can air at the right time and adopt healthier habits by following the history in its mobile application.
Rechargeable via USB, the Eve Room and its high quality digital ink screen will allow you to monitor the quality of your ambient air at a glance. Simple and intuitive, the air quality is rated on a scale of one to five stars. If it drops, simply ventilate the room for a few minutes to renew the atmosphere, flush out VOCs and get your peace of mind back.
5. Temtop M10 air quality sensor
Simple and effective, the Temtop M10 stands out from the competition with its sleek design and accurate readings. Although it does not indicate temperature or humidity levels, this air quality sensor is capable of measuring the concentration of formaldehyde in the ambient air.
Equipped with a 3rd generation laser particle sensor, the reliability of the measurements taken by the Temtop M10 allows this instrument to detect a wide range of volatile organic pollutants. In addition, its fine particle measurement algorithm (ppm) and its ability to detect the accumulation of carbon dioxide in the surrounding air make the Temptop a complete and interesting product to have in the fight against domestic air pollution.
How does an air quality monitor work?
The air quality monitor or sensor is a device that assesses the quality of indoor air by detecting the presence of potentially harmful gases and particles (microscopic solid and liquid particles). It is equipped with several sensors designed to detect various types of pollutants.
An electrochemical sensor identifies oxygen levels and the presence of toxic fumes through an electrode that measures its concentration. Particle detectors distinguish dust, pollen and mould by means of a laser placed inside the sensor.
Based on the strength and range of the beam, the sensor can determine the accumulation of particles in the house. The monitor displays the current air conditions in the indoor space. Some have colour-coded or numbered systems to indicate hazard levels.
How to choose your air quality sensor?
When it comes to detecting or measuring the air quality in your home, you are spoilt for choice. In order to help you, we have provided a few criteria to consider in our guide to finding the best air quality monitor.
Measurement capabilities
A good air quality sensor should be able to provide you with information on the different levels of pollution in the air in your home. It should therefore be able to take several parameters into account. For this first criterion, make sure that your monitor can measuring air purityThis is the only way to measure the temperature, humidity and all the pollutants such as CO2, fine particles (ppm), volatile organic compounds (VOC) and others.
The display
In addition to taking into account the surrounding air quality, the monitor should also offer a format adapted to the reading of the information on the screen. The data should be clearly visible from any angle. In addition, you should check whether the various display modes are intuitive enough and easy to understand.
A connected device
The ease of access to real-time information from your sensor is also one of the criteria for choice. There are many devices that can be connected to your smartphone. From your smartphone you should be able to view the data and monitor any changes in indoor air quality.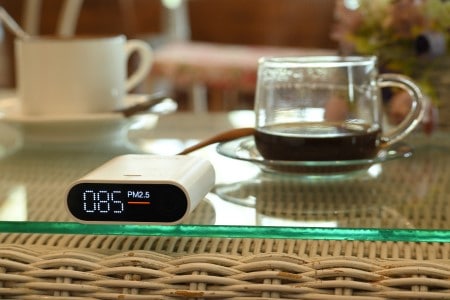 Real-time data
The speed of response of your monitor is also an important criterion. If changes in air quality are observed, you need to be informed immediately. You should therefore take into account the response time.
Beyond these few criteria, it is important to also consider ergonomics, data reliability, design, ease of installation and price when making your choice.
What can an air quality sensor measure?
Air quality monitors are equipped with several sensors designed to detect different types of pollutants.
Fine particles (PM2.5)
The acronym PM2.5 (Particulate Matter) refers to all aerodynamic particles with a diameter not exceeding 2.5 micrometres. They are present in the atmosphere, these fine particles cause inflammation and dysfunction of the respiratory system. Thanks to an air quality monitoring sensor, it is possible to detect molecules that are invisible to the naked eye and thus find appropriate solutions to purify the air.
Carbon dioxide (CO2)
Colourless and odourless, CO2 is a gas that is well known to everyone, particularly in the context of global warming. Inhaled in certain proportions, this gas can cause asphyxiation. By disrupting the nervous system, it can speed up breathing, increase the heart rate, cause nausea or render you unconscious. The normal permissible level in an enclosed area is 800 to 1000 ppm (parts per million), if you want to limit the transmission of coronavirus. To determine whether this is the case, you should opt for an air quality monitor.
Aldehydes (HCHO)
Aldehydes in the air are an important part of volatile organic compounds (VOCs). They are released by construction materials and products such as glues or varnishes, aldehydes are triggers for asthma and neuropsychological effects, not to mention the fact that they could develop cancer in the nose. A good sensor can help you determine the concentration of these aldehydes.
Total volatile organic compounds (TVOC)
Total volatile organic compounds (TVOCs) can lead to irritation of the nasal mucosa and eyes as well as respiratory problems when they exceed a certain threshold. Some monitors have a TVOC sensor to determine the critical levels that should not be exceeded in the indoor air.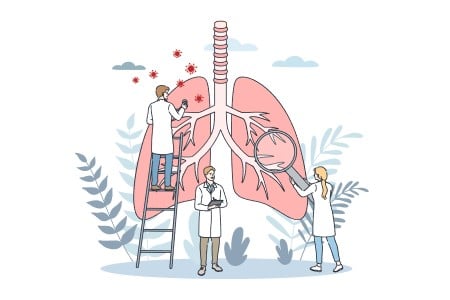 Indoor Air Quality (IAQ)
An air quality sensor is used to determine the level of air pollution that you breathe indoors. This will allow you to install a suitable type of ventilation or use other air purification products.
Temperature and humidity
Temperature and humidity are two related factors that affect the effect of the various pollutants mentioned above. While high humidity promotes the growth of mould, dust mites or other bacteria, high heat will cause dry skin, irritated eyes, weakened respiratory systems, etc. With the help of an air quality sensor, you can always keep an eye on the variation of these factors.