No one is safe from a fire, which is why the purchase of a smoke detector is an obvious choice. Choosing quality equipment is essential to protect your family and your home. However, we all know someone who has a smoke detector that goes off at the slightest dust in the air, for no reason... That's why we've designed this guide for you, to protect you as best as possible and avoid this kind of inconvenience.
Our selection for the year 2023
There are many smoke detectors on the market. In order to make your choice easier, we have limited our selection to 3 products that we believe are the best for your home in 2023.
1. Delta SIEMENS Reflex smoke detector 5TC1292-1
The most efficient
The Delta SIEMENS Reflex 5TCS1292-1 smoke detector is designed to quickly detect any outbreak of fire. Certified NF and approved CE EN-14604, this detector is equipped with a thermal sensor and an optical sensor. The advantage? You won't be bothered by the nuisance alarms that are often found with ionic sensors.
The product is of high quality and comes with a 5 year warranty and life expectancy. It comes complete with batteries, so you only have to change them once during the life of the product.
2. X-SENSE SD11 Photoelectric Smoke Detector
Our favourite ❤
Sensitive and intelligent, the X-SENSE SD11 smoke detector is designed to accurately detect smoke in seconds, with far fewer false alarms than an ioniser sensor. TÜV certified and CE EN-14604 approved, this detector is equipped with a photoelectric sensor and an irreplaceable battery with a 10-year life span.
Guaranteed for 10 years, this product features a low battery notification to let you know when it's time to replace it. Made from high quality, recyclable materials, the X-SENSE performs a self-test every 60 seconds for your safety and alerts you to any abnormalities with a beep and flashing light.
3. OTIO smoke detector
The best value for money
Certified NF and conforming to the European standard EN-14604, the OTIO detector is designed to recognise smoke thanks to a photoelectric sensor. Guaranteed for 5 years, this product will not disturb the peace of your home with false alarms. Indeed, although its price is attractive, it is still a reliable and high quality device with its quality sensor. Equipped with a low battery indicator, this detector benefits from a good autonomy and will only require one battery change during its entire life.
Is a smoke detector compulsory?
A smoke detector is a device designed to identify the presence of a fire and to sound an alarm when it is detected. Unlike the carbon monoxide detectorThe smoke detector (also known as the "autonomous smoke detector" - ASD) is mandatory in all homes since 8 March 2015.
According to French law, the purchase of the smoke detector and its installation are the responsibility of the owner of the dwelling. However, the maintenance and control of its proper functioning remain the responsibility of the person occupying the dwelling.
For dwellings occupied by a tenant at the time of the entry into force of Article 1 of Law no. 2010-238 of 9 March 2010 aimed at making the installation of smoke detectors in all dwellings compulsory, the obligation for the owner to install a detector is fulfilled by supplying a detector to his tenant or, if he so wishes, by reimbursing the tenant for the purchase of the detector

Insurance Code - art L.122-9 (VD)
To comply with the law, your smoke detector must be approved according to CE standard EN 14 604. This standard ensures that the device is capable of detecting smoke emissions from a smouldering fire (wood or cotton fire) and a fast-moving fire (plastic or flammable liquid fire). Other obligations related to this standard are that the device must be able to emit an alarm of at least 85 dB to effectively alert residents and that the manufacturer must provide you with contact details, the model of the detector and all instructions relating to the layout, installation and maintenance of the product.
However, there are limitations to this standard: it only guarantees the reliability of a product when it goes into production. It is therefore possible that your detection device will no longer comply with the standard if the quality of production drops. To counter this risk, you can turn to an instrument that also has NF certification. Although not mandatory, this certification ensures that the product is frequently checked in the factory. Follow-up audits and random sampling are carried out regularly to ensure product conformity.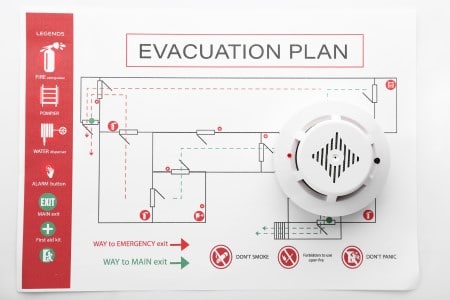 Where to place the smoke detector?
Legally, a smoke detector can only be installed in the private areas of a dwelling. A decree of 5 February 2013 of the Construction and Housing Code stipulates this very clearly in its article 6:
It is forbidden to install autonomous smoke detectors in the common areas of apartment buildings

Code de la construction et de l'habitation - art 6 de l'arrêté du 05/02/13
The reason for this ban is simple: in the event of an alarm, the reflex is to open the door of one's home to see what is going on. However, when you open the door, you may find yourself in the smoke and flames if the fire is confirmed.
At the level of the private parts of the dwelling, it is advisable to place the detector in the corridor leading to the rooms or in the immediate vicinity. This will make it easier for you to be alerted by the alarm in case of a fire during the night. In order to use your smoke detector effectivelyIf you live in an apartment, consider installing a smoke detector on each floor of your home. Finally, if you live in a studio apartment, install the detector as far away as possible from the kitchen or shower. The device will then be less affected by kitchen particles or water vapour.
How long does a smoke detector last?
A good indicator of the longevity of a smoke detector is the length of its warranty. This is usually 5 years for detectors with alkaline batteries and 10 years for those with a lithium battery. Note that some devices do not allow for battery replacement, particularly those with lithium batteries. Their durability is therefore comparable to that of the battery.
How do I know if my smoke detector is working?
A simple test to see if your smoke detector is working is to extinguish a candle or two burning matches together near the equipment. On contact with the smoke, the detector is supposed to sound an alarm. Note that this process also works for most devices that can detect pollutants in the air.
Do you want to check whether the battery is switched on? Then simply press the test button to check whether an alarm is triggered. If not, it is time to replace the battery. Remember to repeat this test after changing the battery to ensure that the device is working.
How to stop the alarm?
Has your device gone off and you want to turn it off? If there are no obvious signs of smoke or fire, it is advisable to reset and clean it. This will prevent you from having another "false" scare. To do this, simply :
Remove the battery ;
Press and hold the test button for 5 seconds;
Reinstall the battery after blowing into the detector;
Test your device to make sure it is working properly.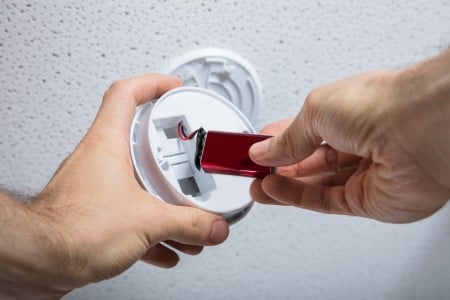 Are there different models of smoke detectors?
There are 3 types of detectors for detect the presence of smoke in the ambient air: the ionic detector, the heat detector and the photoelectric detector.
The ionic detector
The ionic detector is triggered by current variations in its ionisation chamber. Simple and inexpensive to manufacture, this type of detector is very sensitive and can be activated by contact with a kitchen particle or dust. It is mainly found in private homes.
The heat detector
The heat detector has an integrated temperature sensor. When the temperature reaches 54°, the device is triggered and emits an alarm. This type of detector is not sensitive to particles, but its field of action is limited to its immediate area. They are generally found in kitchens and smoky environments. This variety of sensor does not meet the CE EN 14 604 standard and therefore cannot be installed in your home.
Photoelectric sensor
The photoelectric detector is triggered when smoke interferes with a continuous beam of light in contact with a sensor. This highly efficient device is able to recognise smoke from your furniture and similar objects without being triggered by the slightest dust.