Used in many trades, thermal imaging cameras measure the heat waves emitted by a body or object and can also be useful for individuals. There are various models, from the most affordable to the most expensive.
To find out which type of thermal imaging camera to choose, we offer you a short guide that will allow you to learn everything about this tool and to identify any thermal bridges in your home.
Our selection for the year 2023
There are many heat detectors on the market. In order to make your choice easier, we have limited our selection to 4=5 devices that we believe are the best for your home in 2023.
1. Bosch GTC 600 C thermal imaging camera
The most efficient
The GTC 600 C is a thermal imaging camera that can quickly and effortlessly detect temperature changes, even outdoors. Whether small or large, the thermal imaging camera captures and intelligently documents every temperature change with its measuring range of -20 °C to +600 °C. The voice recording function is particularly useful for describing the environment in which the measurements were taken.
With its intuitive interface, the GTC 600 C also offers convenient built-in features such as the emissivity preset and the enhanced gallery. This allows you to compare infrared and real images in the shortest possible time and with the highest quality.
2. Hti-Xintai HT19 thermal camera
Our favourite ❤
Do you want to see the world in a whole new way? With the Hti-Xintai you can! This professional quality thermal imaging camera offers you superior measurement quality and detail, thanks to its enhanced 320 x 240 resolution. It's perfect for identifying heat loss, firefighting, electronics manufacturing, and any other activity requiring accurate temperature readings down to 2.5°F.
Using a triple point measurement system, this camera gives you an accurate picture of the hottest, coldest and temperature of the target area. Combined with its ease of use and pleasant, easy-to-read data, this thermal camera is the best value for money in our tests.
3. Flir TG165-X MSX thermal camera
The best value for money
The Flir TG165-X MSX thermal imaging camera is the ideal tool if you want to solve a wide range of electrical, mechanical and insulation problems. With its enhanced thermal imaging (patented FLIR MSX), you will be able to quickly identify and locate the source of the problem.
With an accuracy of ±1.5 °C, the TG165-X is capable of evaluating a wide temperature range from -25 °C to 300 °C. The TG165-X is supplied with an IP54-rated enclosure and is particularly shock resistant. The TG165-X is able to withstand a drop of 2 m, so you can work with confidence.
4. FLIR One thermal camera (Android)
Want to turn your phone into a powerful thermal imaging device? With the Flir One, you can connect to your Android device and use its dedicated app to detect hundreds of problems around your home.
Flir One works by showing you the differences in thermal energy, so you can detect and measure even the smallest temperature changes. This thermal camera allows you to see clearly in total darkness, spot invisible energy leaks, know what's going on outside your home at night, and much more.
5. FLIR One Pro thermal camera (iOS)
With its rugged design, height-adjustable ONEFIT connector and powerful imaging features for the jobsite, the Flir One Pro is the ideal solution for professionals who use thermal imaging. Whether you're a building inspector, an expert handyman or an avid contractor, this thermal imaging camera is sure to impress with the quality of the images it captures.
With 160X120 resolution for clear images and MSX enhancement for detailed rendering, this model is capable of accurately measuring temperatures from -20°C to 400°C. Compatible with your iPhone, this device is also shock and water resistant. So you can take it with you wherever you go on business trips.
What is a thermal imaging camera?
The principle of the thermal camera is that it reproduces the heat waves and infrared radiation it records in images.
The hotter a body is, the greater its thermal radiation. The role of the thermal camera is to collect this information and translate it into an image. In most cases, thermal imaging cameras show the hottest bodies in shades of red, and the coldest bodies in shades of blue.
What is a thermal imaging camera used for?
There is a tendency to think that thermal imaging cameras are mainly used by the military or secret agents. In reality, they are a very useful tool for everyday use.
Check insulation and heat loss
Insulation problems can lead to a lack of comfort and a loss of money. It is therefore essential to detect the areas responsible for poor insulation in order to be able to act accordingly and create a cocoon of well-being.
To help you, the thermal camera is indispensable. Thanks to the mapping of the infrared flows it performs, you can detect thermal bridges in your walls. All you have to do is carry out the appropriate work to eliminate these losses.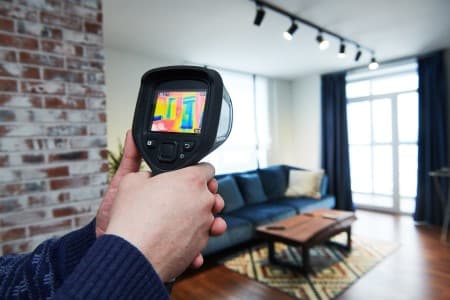 Checking electrical installations
In addition to the economic or ecological damage they can cause, it is important to know that problems related to electricity are the main cause of incidents in companies: fire starts, power failures, etc. All this can be avoided by regularly checking the electrical installations in your premises.
With thermal imaging cameras and the heat checks they are able to perform, you can :
find abnormally hot spots that may cause a fire or production stoppage
to analyse the origin of the heating
and prevent possible damage due to these anomalies.
Fighting against thermal flats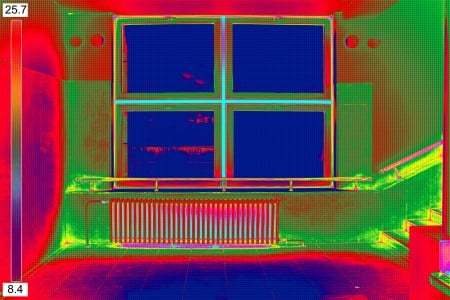 In France, nearly 5 million homes are considered as "thermal flats". These are in fact homes or premises of all kinds that are far too energy-intensive. In the interests of the environment, the government has decided to introduce a law (the Climate Law) which aims to control their purchase and sale, as well as their rental.
To find out if you are living in a heat sink and to avoid the problems that this can cause, a thermal camera is essential. It allows you to identify the causes of heat loss by detecting the areas responsible.
Identifying water leaks in walls
With water prices on the rise, you don't want your home to fall victim to a leak. You could end up with a bill that is much higher than you expected at the end of the month.
As with insulation problems, a check with a thermal imaging camera will help you to detect the location of leaks. Leaks cause temperature changes. Once these leaks are detected, you can repair the elements that need to be repaired.
Identifying individuals invisible to the naked eye
To detect gas leaks or to identify an individual at night, the human eye is not always sufficient.
Fortunately, thermal imaging cameras are able to identify a person in the dark - which is very useful for security companies, for example - or to detect bodies that are invisible to the naked eye. They can detect the heat emitted by a human body, as well as temperature changes due to a gas leak, for example.
How does a thermal imaging camera work?
Absolutely all bodies emit infrared energy, which is known as the heat signature. The role of the camera is to record these signals and convert the data into an electronic image.
However, you should know that there are different types of thermal imaging cameras, all of which have their own special features.
The camera with an uncooled infrared sensor
Cameras with an uncooled infrared sensor do not need to be cooled down in order to transmit images.
The uncooled infrared thermal camera is often more affordable. In addition, it does not suffer from the weather damage to the cryocoolers of the cooled sensor camera. It therefore has a longer life span.
The camera with a cooled infrared sensor
Unlike the uncooled sensor camera, the cooled sensor camera has a cryogenic cooler. This lowers the temperature of the sensor to reduce the thermal noise to a level below that of the recorded signal.
Although a complex and fragile tool, the cryogenic cooler has several advantages:
it allows for a much faster capture of thermal differences;
it offers superior image quality;
it allows the temperature of very small objects to be measured;
it facilitates the study of temperature changes in very specific parts of the electromagnetic spectrum;
it allows you to synchronise your thermal camera with other measuring devices.

What are the different types of thermal imaging cameras?
As we said, there are different types of thermal imaging cameras. In order to know which model to choose, here is a short explanation of the particularities of each of them.
The thermal camera
With it, you can film temperature variations. The heat emitted by the bodies it analyses enables it to recreate an image. It allows very precise vision in the dark, or to spot elements invisible to the naked eye.
It is used in various fields such as first aid, automotive, firefighting, medicine, surveillance, etc. It will also be very useful if you want to remove a thermal bridge in the ceiling or elsewhere.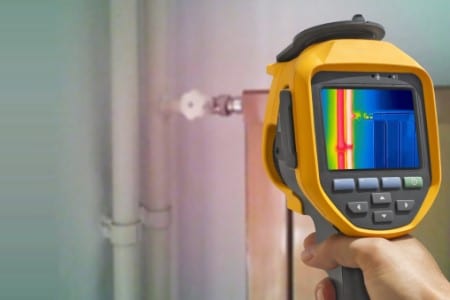 Thermal camera for Smartphone/iPhone
As nothing is done without mobile phones these days, manufacturers are starting to offer thermal imaging cameras that can be synchronised with smartphones and other tablets.
The applications that the various phone manufacturers offer allow the user to benefit from online backup systems.
The thermographic camera
It records the infrared rays, analyses them and transcribes them onto a thermograph. It is in fact a diagram that represents the temperature variations.
The infrared camera
Generally less expensive than the thermal camera, it is capable of capturing wavelengths in the micron range (10-6 m). It is therefore less accurate than the thermal camera.
However, it can also be used by people who want to film night scenes. This is the type of camera used on television. It should be noted, however, that for optimal results, the camera must be accompanied by lighting.
How to choose a thermal camera?
Many people need a thermal imaging camera. As we have seen, there are different types of thermal imaging cameras and the user must therefore analyse the use he or she wants to make of it.
A firefighter, for example, will not use the same camera as a plumber or surgeon. Before you buy a thermal imaging camera, be sure to consider the following to avoid disappointment.
The resolution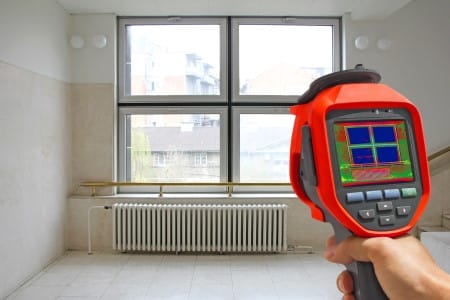 It's simply the quality of the image you record. Thermal cameras with cooled infrared sensors provide better resolution. If you want to get a quality film, make sure the resolution of the camera you are going for is good.
The quality of a camera's resolution is expressed in pixels, just like conventional cameras. The more pixels your camera has, the better your image.
The field of view
This is the portion of space that your device is capable of capturing. If you want to shoot landscapes, you should choose a camera with a wide field of view.
The field of view is expressed in degrees. Having a large field of view does not necessarily mean that your camera is of better quality. If the field of view is more concise, the image is more detailed and therefore easier to analyse. Electricians, for example, often need a very precise image. They therefore use cameras with a smaller field of view.
In order to find the location of fires, however, firefighters use thermal imaging cameras with a wide field of view.
Thermal sensitivity
It is measured in millikelvin (mK). This is the smallest difference in temperature that the device is capable of detecting. It is estimated that the thermal sensitivity The following determines the quality of the sensitivity of a device:
<30 mK (excellent)
<40 mK (very good)
<50 mK (good)
<60 mK (acceptable)
<80 mK (satisfactory).
Good thermal sensitivity ensures that your camera is not affected by the elements such as snow, fog or rain.
The temperature range
This is the temperature range that the thermal imaging camera is capable of detecting.
If your camera has a wide temperature range, you are able to record extreme temperatures. Otherwise, if you have a camera with a small temperature range, it is not possible to capture the highest or lowest temperatures.
Generally, thermal imaging cameras have a temperature range of -30 degrees Celsius to +350 degrees Celsius. To detect the origins of fires, firefighters use cameras capable of recording temperatures of up to more than 2,000 degrees Celsius.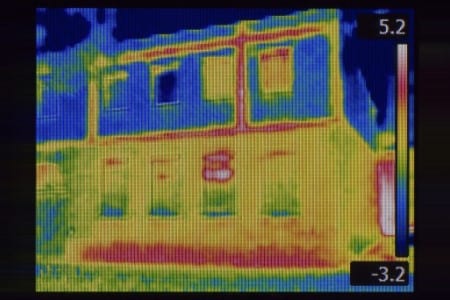 The focus
This is very important if you want to enjoy a sharp image. In addition, the quality of the measurement and the accuracy of the image will also be affected by the focus.
On the more advanced models, you can adjust the focus manually or automatically.
Accessories
Like conventional cameras, thermal imaging cameras can be combined with a wide range of accessories. Whether they serve to improve the image, provide greater stability or simply enhance the aesthetics of your camera, they are a real bonus that should not be overlooked.
When shopping, you can also go to :
A tripod, which allows you to obtain a stable image. Very useful for longer shots.
A thermal camera lens. It allows you to focus better, especially when zooming in.
A video cableThis is used to transmit recorded images to an external display (TV, tablet, etc.).
A case or coverThe cover is designed to protect your device from knocks or moisture.